The automotive world is changing right before our very eyes and this Polestar 2 vs. Tesla Model 3 comparison page can help you evolve right alongside it. We're thrilled to offer this showdown between two EV sedans that offer performance, technology, and style. One of them is born from a brand almost 100 years in the making and is destined to redefine everything you thought you knew for this segment. The Polestar 2 is a brand-new EV sedan that shares the P8 underpinnings of the Volvo XC40 Recharge Electric. But where she takes things from there is an entirely different story. Scroll for more.

Polestar 2 vs. Tesla Model 3 Brand Overview
Introducing a new EV brand: Polestar. A sister company of Volvo Cars, Polestar focuses exclusively on EV mobility. You may have noticed that certain performance-based electrified Volvo vehicles wear the Polestar badge. The Polestar 2 EV sedan fills the void and offers the world an alternative solution for an electrified sports sedan. Filled with incredible technology and luxury, the Polestar 2 will challenge and define what's stood as the norm for many years.
Don't get us wrong. Giving credit where it's due, the world owes a debt of gratitude to Tesla for popularizing e-vehicles. They've reminded the world what's possible when imagination drives innovation. Tesla has stood unchallenged for many years. But has time gotten the best of them? Are Tesla vehicles somehow too familiar? It's time for something new.
Polestar 2 vs. Tesla Model 3 FAQs

While the Tesla Model 3 stretches longer overall, it's about 2 inches shorter than the Polestar 2. The Polestar 2 gives you 96 cubic feet of passenger space and 16 cubes of storage, while the Model 3 offers 97 cubic feet of passenger volume and 15 cubic feet of storage.

You'll see up to an EPA-estimated 334 miles with the Tesla Model 3, making it the EV sedan that has the most range between these two models.4

The Polestar 2 bests the Model 3 by a cubic foot in cargo space with 16 cubes total. The Polestar 2 gives you a little more breathing room for life's spontaneous adventures.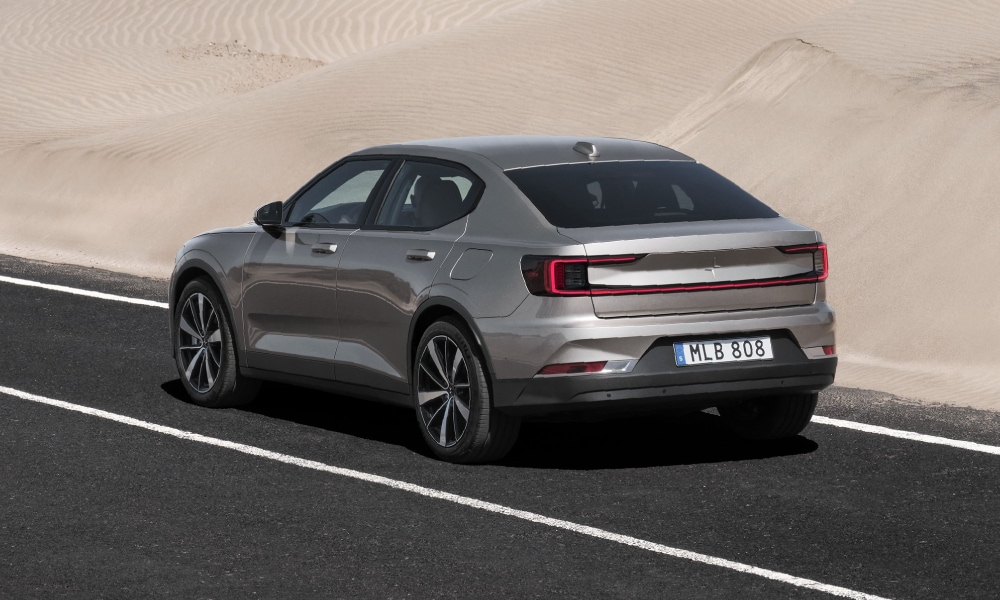 Goodbye Normal. Polestar 2 vs. Tesla Model 3 Pricing
Nearly all of us make a monthly car payment. According to a new study from Credit Karma, Americans' average monthly car payment is $568. According to another study from ValuePenguin, the average U.S. household spends $250 a month on gasoline. Add those two together, and your monthly spend for a car is $818. And that doesn't include insurance, maintenance, and miscellaneous expenses (yikes). That's a lot by anyone's standards.
Upgrade to the top-model Polestar 2 and see a lease with a $449 monthly payment with $5000 down.1 On the base model Tesla Model 3, a current lease special will have you at an estimated $468 a month with $4500 down (for 36 months at 10,000 miles).2 Even if you use the ballpark rule that $1000 added or subtracted from a down payment changes your monthly payment by a factor of $20, you'd still
be paying about $459 a month with $4500 down on the top model Polestar 2. Keep in mind that you won't have to pay $250 a month in gas with either of these vehicles. So not only is your monthly payment cheaper with either the Polestar vs. Tesla, the buck stops there. No additional gasoline expenses. Keep in mind that you'll get the Polestar 2 top model for less than the base Tesla Model 3.
Polestar 2 vs. Tesla 3 Model Pricing
Let's take a quick peek and see how many models are offered, and where their prices are.
The all-new Polestar 2 comes in two unique trims (with a special Launch Edition for the current model year only). Choose between the:
Polestar 2 Long Range FWD at a starting price of $45,900 MSRP3
Polestar 2 Long Range AWD at a starting price of $49,900 MSRP3
For the Tesla Model 3, you get the:
Tesla Model 3 at a starting price of $46,490 MSRP3
Tesla Model 3 Long Range at a starting price of $52,490 MSRP3
Tesla Model 3 Performance at a starting price of $58,990 MSRP3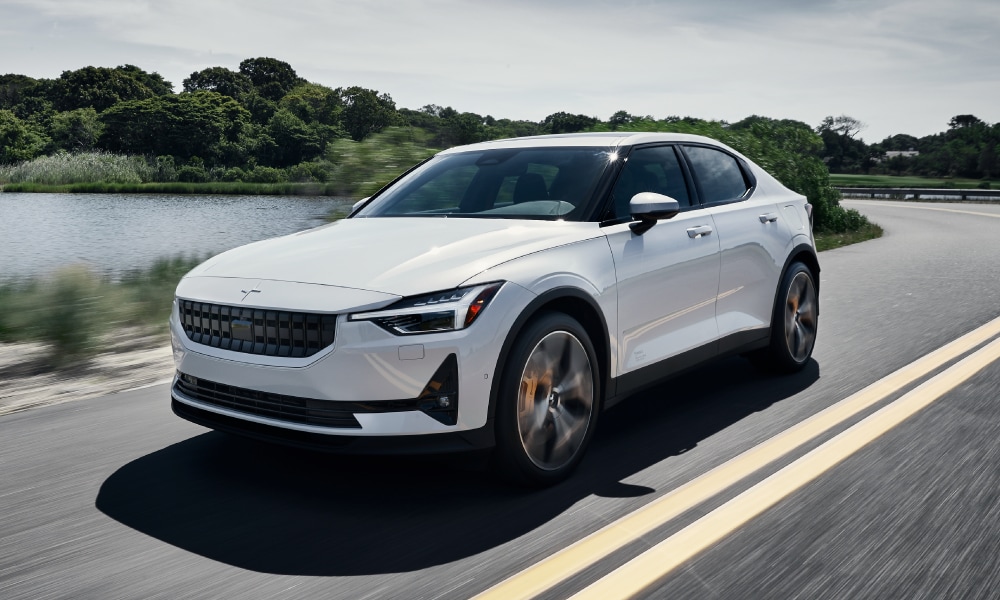 The next question is the most obvious one. Do you get more if you pay more? The answer is revealed in the next section.
Polestar 2 vs. Tesla Model 3 Performance, Range, & Specs
Both vehicles offer a single-motor and dual-motor variant. The Polestar 2 implements a single motor at the front wheels, while the Tesla Model 3 puts its single motor at the rear wheels. Opting for the Polestar 2 FWD, you'll see better traction in winter weather than with a rear-wheel-drive (RWD) vehicle.
Slide behind the wheel of your single motor Polestar 2, and you'll get a 0-60 in 7.0 seconds with an EPA estimated range of 265 miles.4 Hopping into the dual-motor Polestar 2 gets you a 0-60 in 4.5 seconds with an EPA estimated range of 249 miles.4
The RWD Model 3 offers a 0-60 in 5.8 seconds and an EPA estimated range of 267 miles.4 Stepping up to the Long Range version, you'll see a 0-60 in 4.2 seconds with an EPA estimated range of 334 miles.4 If you go with the Performance Edition, you'll get a 0-60 in 3.1 seconds with an EPA estimated range of 315 miles.4
| | | |
| --- | --- | --- |
| | Polestar 2 | Tesla Model 3 |
| Engine: | Electric | Electric |
| Horsepower: | 231 hp | 283 hp |
| 0-60: | 4.4 seconds | 3.1 seconds |
| Torque: | 243 lb-ft | 302 lb-ft |
| Range: | 249 miles | 358 miles |
| # of seats: | 5 seats | 5 seats |
| Cargo Capacity: | 14.3 cu. ft. | 22.9 cu. ft. |
| Passenger Volume: | 89 cu. ft. | 97 cu. ft. |
What About Technology?
All Polestar 2 models come with a 12.3-inch digital driver's display and are equipped with an infotainment center powered by Google with Android Auto™ and Apple CarPlay® standard. Additionally, advanced ADAS safety comes standard on all models. The Model 3 does not offer a central cluster, meaning you have to use the center stack for vehicle data and therefore take your eyes off the road.
Here's where things get odd. For all the technology that Tesla is known for, the Tesla Model 3 does not offer Apple CarPlay® or Android Auto™. Beyond that, to get the most out of Tesla 3 specs, you'll have to spend an additional $10,000 to get their full self-driving pack that features other ADAS safety controls.
Polestar 2 vs. Tesla Model 3 Interior & Dimensions
Overall, these two five-seater sedans split hairs in terms of space. The Polestar 2 stretched 181.3 inches overall with a 107.7-inch wheelbase. She's 73.2 inches wide and 58 inches high. Total passenger volume is 96 cubic feet with 16 cubes of storage. The Model 3 is 184.8 inches overall with a wheelbase of 113.2 inches. With mirrors folded in, the Model 3 is 72.8 inches wide and 56.8 inches high. Passenger volume is 97 cubic feet, and storage is 15 cubic feet. The superficial numbers in the Tesla Model 3 size comparison might lead you to believe it's bigger, but they are virtual equals in terms of space.
The Polestar 2 edged out ahead in terms of interior refinement. The Polestar 2 offers several interior themes with sumptuous Nappa leather, dual-tone combinations, and entirely vegan interiors, too, whereas the Tesla Model 3 only offers a white or black synthetic interior.
Polestar 2 vs. Tesla Model 3 Conclusions
Sustainable mobility will help save our environment while helping you save money. It's on that note that we'd like to offer another substantial difference between these two vehicles. The Polestar 2 qualifies for up to $7500 in federal tax credits. The Tesla Model 3 does not. So when it comes down to it, you'll have to ask yourself how much value the Model 3 brings to the table.
The Tesla Model 3, compared to other cars, is a treat, that's for sure. But head to head with other EV rivals, especially the all-new Polestar 2, the numbers just don't add up. When it comes time to purchase or lease, you'll have to ask yourself how much more important those extra miles are. Considering that both vehicles are fast-charge capable, you're on your way in no time. Install any number of Level 2 chargers at your home, and range depletion is a non-issue for both. When it comes down to saving resources of all varieties, we think the winner in this comparison is pretty clear.
---
1Monthly lease payment of $449 per month for 36 months is based on an adjusted capitalized cost of $47,195 (MSRP of $49,900, including destination and delivery fee of $1,300, acquisition fee of $995, less $5,000 capitalized cost reduction). Actual MSRP may vary and could affect your monthly lease payment. Cash due at signing includes $5,000 down payment, $449 first month's payment and $0 security deposit. Tax, title, license, registration and dealer fees are additional fees due at signing. Advertised payment does not include applicable taxes. Available to qualified customers that meet PFS credit standards at authorized Polestar Spaces. Must take delivery by November 30th, 2021. See your participating Polestar Space for details. Automobile financing and account servicing provided by Volvo Car Financial Services U.S., LLC, d/b/a Polestar Financial Services. Polestar Financial Services is a registered trademark of Polestar Holding AB.
2The calculator above provides information about the price of the car if you participate in Tesla leasing. The calculator does not include taxes or fees. Please note you are subject to lease approval. You forgo the option to buy your car at the end of the lease and must return it to Tesla after the lease term. Tesla leasing is available in AL, AK, AR, AZ, CA, CO, CT, DC, FL, GA, HI, IA, ID, IL, IN, KS, LA, MA, MD, MN, MO, MT, NC, ND, NJ, NM, NV, NY, OH, OR, PA, RI, SC, SD, TN, TX, UT, VA, WA, WV, WY. Lease payment excludes the California Clean Fuel Reward. Due at signing amount includes your selected downpayment ($4,500), first month's payment ($468), and acquisition fee ($695).
3MSRP does not include tax, title, license, delivery, and other fees. Dealer sets actual price. Incentives vary by state. See dealer for details.
4EPA estimates only. Your results will vary.