2022 Volvo XC60 For Sale In Rockville, MD

The Volvo XC60 for sale is back yet again, and to the surprise of absolutely nobody, she's a refreshed SUV model that earns top marks from end to end. Drivers just like you that want a car that can fit more than a sedan can without being bulky beyond belief love how this crossover unleashes road trip possibilities. Choose this Volvo Cars model and set up your cabin any way you like in a car that goes far in between refueling stations.
View XC60 Inventory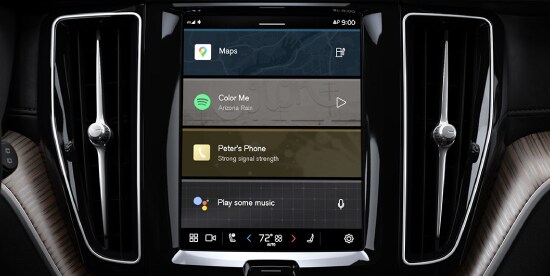 What's New for 2022 in the Volvo XC60 for Sale?
Drive the car that's ready to turn heads near Washington, D.C., right now. The new Volvo XC60 depends on a little company called Google for navigation and music, as well as an advanced Android-based infotainment system that recently debuted in the new electric Volvo XC40 Recharge. This car is as intelligent as she is impressive, thanks to upgrades in the sensors of the automated driver assistance system, radars, and the multiple cameras stationed around the frame.
Vehicle experts applaud how you'll have access to your entertainment options, navigation directions, and crucial car information without having to pull your eyes off of the road or mess with your phone while driving. The future of driving is here, and it doesn't involve you having to mess with a bunch of tangled cords.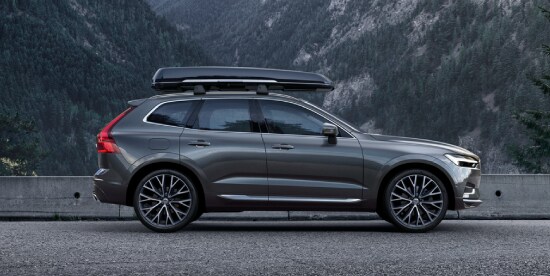 Another Volvo XC60 Safety Standout Is Here
Are you wondering what safety features can be found inside the 2022 Volvo XC60? It may be easier to find out what's not included — because the Volvo XC60 seemingly has it all. Our vehicle experts are super excited about the forward-collision warning, blind-spot monitoring, driver attention warning, and rear cross-traffic collision-avoidance assist. Those features can be hard to come by in SUV models from our fellow competitors, but they come standard across the board in all Volvo XC60 trim levels. Passenger safety has always been a priority for Volvo Cars, and the new Volvo XC60 is further evidence of this well-known fact.
---
Explore the Volvo XC60 Trims Available Now in Rockville, MD
A trio of trim levels are available for the new release, and they mirror the Momentum, Inscription, and R-Design models of the past. These three trim levels came together last year for a model that earned an elite five-star safety rating from the NHTSA and a Top Safety Pick from the IIHS. Keep reading to find out more information about each trim, so you can find out which one is right for you.
Talented Trim Levels Are Here To Stay
As we've mentioned, we have three trim levels for the 2022 Volvo XC60, as well as for the Volvo XC60 Recharge. Those that review cars for a living praise this SUV as a multidimensional beast that's engaging to drive but supportive enough to calm even the most chaotic cabin. We're confident that you'll feel exactly the same once you get behind the wheel.
In addition to having all three trims available for sale, we also have several flexible Volvo XC60 lease deals on hand for drivers in the same situation. Our vehicle experts can take you through what makes leasing a car so beneficial for those that want to have an amazing car in their garage without having to house a long-term commitment as well. Ask our showroom team members about leasing an SUV the next time you pay us a visit, and they'll be sure to outline for you all of the different elements of our lease deals and what makes them a great pick for families in our area.
---
XC60 Momentum

What's Behind the Build of the Momentum Trim?
The Momentum trim level of the Volvo XC60 redesign is one that you'll love driving more and more with every mile. At a starting price point of $43,745 MSRP,1 this trim shows that Volvo Cars is making sure that you won't have to go above and beyond to get an amazing array of features in your cabin that make for a comfortable and supportive ride. Scandinavian design is the star of the show in a large car that looks as elegant as any luxury sports car.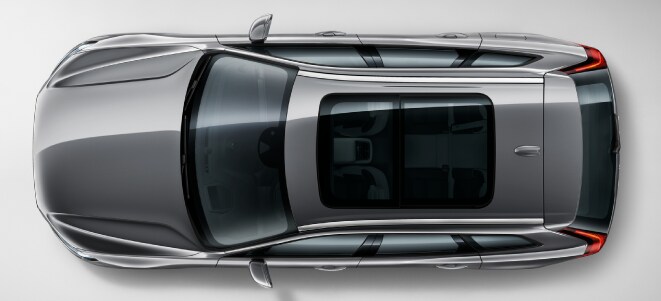 Performance
Expect to have elite efficiency in your Volvo XC60 Momentum trim as your five-seater SUV powers through all kinds of environments without worry. She boasts an EPA-estimated 30 mpg (highway)2 and delivers 247 horsepower and 258 lb-ft of torque. In addition to these impressive performance figures, 18" 5-Spoke Silver Alloy wheels provide an important connection between your fortified frame and the road underneath it. That's matched up inside with a dynamic touchscreen infotainment center that intricately involves technology in your cabin without confusion.
Interior & Tech
The 2022 Volvo XC60 Momentum trim has Apple CarPlay® integrated for immediate access to navigation and entertainment options, Android Auto voice commands and organization, on-road Wi-Fi capabilities, and more. Use Bluetooth to make the speakers of your car come to life with your favorite song; it'll sound better than ever before due to a multi-speaker system that delivers front-row-concert music quality. Lock into a compelling podcast when you have a long ride, and when you're listening to a podcast inside the house, it'll be super easy to continue right from where you left off when you get in the car.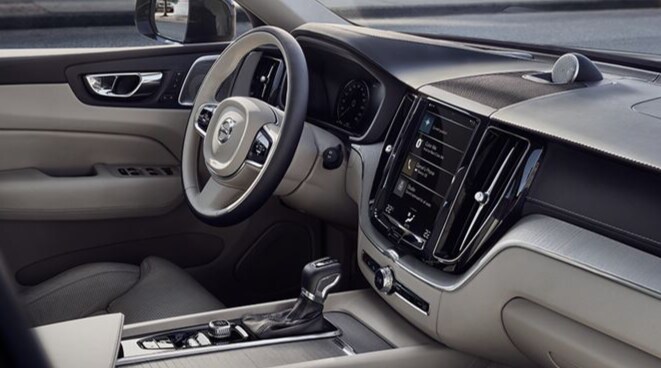 Features & Upgrades
The Volvo XC60 Momentum also has multi-zone climate control for those that need more customization in their car, and a leather-wrapped steering wheel brings comfort all the way home. Choose from multiple exterior color choices as well, and create an SUV model that you're excited to drive. Bright Silver Metallic, Crystal White Metallic, Fusion Red Metallic, Ice White, Pine Grey Metallic, and other colors are available at our dealership in Rockville, MD. Interior colors include Blonde, Charcoal, or Maroon Brown, and all of those choices are perfect pairs with blue, black, gray, or red exteriors.
XC60 Inscription

Make Your Mark in the 2022 Volvo XC60 Inscription
The 2022 Volvo XC60 Inscription has a starting price point of $51,245 MSRP.1 The "top" trim level of the Volvo XC60 separates herself from other competitors not by what's unique to her, but by how she complements the other trim levels. The Volvo XC60 Inscription doesn't hang over the Momentum and R-Design trims with a lofty price point or features that are completely different. Instead, Volvo Cars approaches these trim levels from a different perspective, packing a ton of technology into trims that vary mostly in style.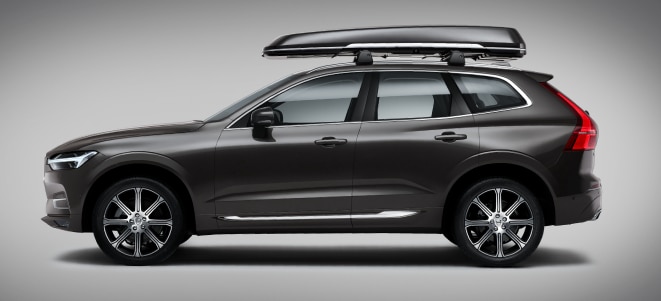 Performance
It's rare to find a car that has more toughness than you might find typically in a crossover SUV while still maintaining a royal presence. This modern model does just that, and the Inscription trim is the most classy of the trio, in our opinion. Volvo Cars models pair class with character in cars that may look red-carpet ready but that can also tap into a 2.0-liter inline-four-cylinder engine whenever you need it. Solid efficiency numbers are the result of a well-rounded system, a set of sturdy all-terrain tires, and a fuel tank capacity of 18.8 gallons.
Interior & Tech
And what a style the Inscription trim boasts. Stride confidently through the streets in your neighborhood with a car that's both elegant and ready to tap into effortless performance. Ventilated Nappa leather clothes the entire cabin and makes it feel like you've packed up the familiar warmth of the living room and hit the road with it. Make her your own by choosing from a variety of interior color options, including Amber Ventilated Nappa Leather and Blond Ventilated Nappa Leather. Driftwood interior accents were clearly placed with an artist's touch, and you're sure to enjoy the Inscription chrome trim for the grilles and side windows too.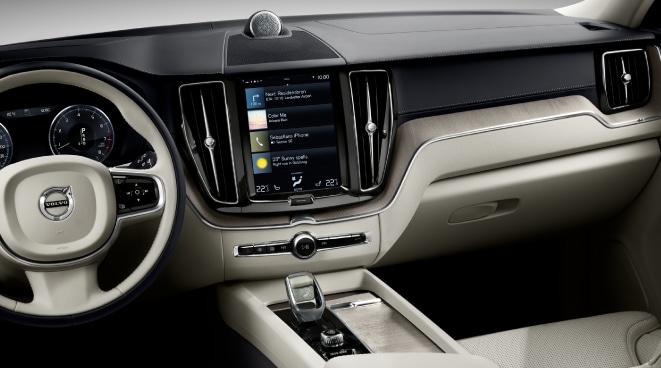 Features & Upgrades
Some features that you should make sure you take note of are the remote services that allow you to control your car from your smartphone before you ever even enter the car. You can lock your doors, locate your car in a crowded parking lot, and more. Once you're inside, tap into power for your favorite devices wherever you are because the 2022 Volvo XC60 Inscription has a 12-volt DC Power Outlet too. Dual-zone climate control finishes it off so that everyone can have their preferred settings no matter which row they're in.
XC60 R-Design

Race Through Your Neighborhood in the Volvo XC60 R-Design
The Volvo XC60 R-Design leans on some core characteristics that you'll find in the Volvo Cars lineup in our R-Design models, including refined power. This year's iteration of Volvo Cars newest SUV includes the R-Design's commitment to racing-inspired excellence that packs a powerful punch. The starting price of the Volvo XC60 R-Design is $49,895 MSRP.1 Just like the other trim levels, FWD and AWD setups are both available.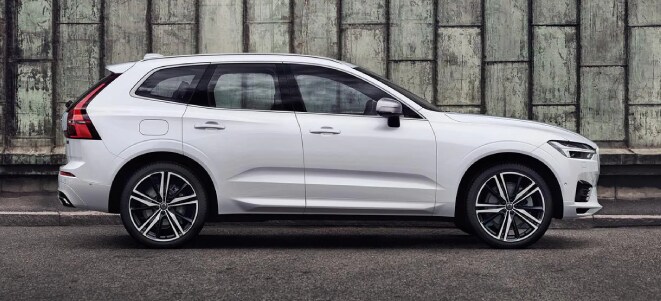 Performance
The B6 R-Design will let you tap into the most horsepower possible from this crossover SUV. She offers up to 295 horsepower and has a dynamic chassis, which harnesses all that power properly. With a 0-60 mph time of 5.9 seconds, ride like the wind in a car that handles responsibly while showing off subtle style touches that car geeks are sure to notice right away. A high-gloss black R-Design grille with horizontal mesh pairs with midnight accents and highlights for a look that says "I'm here."
Interior & Tech
The shifty speed of this car's performance is matched by a digital cockpit that's ready for rapid pace. Sitting down in front of the dashboard of this futuristic and multifaceted model is a thrill all its own. Tap into the experience today by scheduling a test drive at the dealership nearest to you, and you'll understand immediately why drivers love taking the reins of such a daring Volvo Cars SUV model. Rain-sensing wipers, a power moonroof, remote keyless entry, and other intelligent features like the Harman Kardon premium audio system make every drive easier.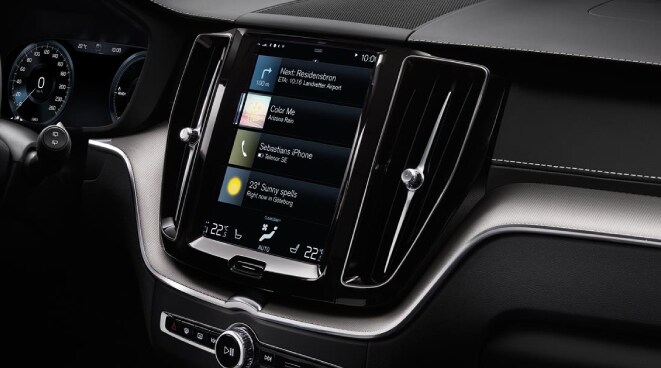 Features & Upgrades
If you're looking for a car that exudes confidence, this is a well-recommended selection. Drive the car that announces your presence wherever you pull up but that also shows off striking combinations of Nappa leather and metal mesh inlays when you open up the doors. Four USB-C ports are available for passengers all around the cabin to stay plugged in with their favorite devices. This car is one that will thrill you from every angle with something new when you start to drive her and settle into eternal excellence as the miles pile up.
FAQs About the 2022 Volvo XC60
The "B" designation refers to a mild-hybrid setup. The B4 FWD and B5 AWD are different setups that produce different results. The B4 FWD setup offers up to 197 horsepower, and the B5 AWD setup offers up to 247 horsepower and 258 lb-ft of torque. The B5 AWD setup is available on the 2022 Volvo XC60 for an additional cost of $2,300, and it offers a quicker 0-60 time but lower EPA-estimated mpg figures than the standard B5 FWD setup.2
Leasing or buying is a personal decision, and the better option depends on your circumstances. At other dealerships, leasing or buying may be a preferred option due to the selection of vehicles on hand or the personal preference of the CEO. At our dealership, the decision to buy or lease a car will never be based on anything but you and your driving situation — in other words, what you want out of your next car. And to make things easier, we offer both lease and finance deals here at DARCARS Volvo Cars. Our experts know the entire car business inside and out and can explain to you the benefits of both options, as well as some common attributes of life situations that are more commonly suited toward one option or another.
When you're ready to move forward with either financing or leasing, our team will be ready to help you down the path you've confidently selected.
It doesn't take much time at all to get from the nation's capital to our location. DARCARS is approximately a 30-minute cruise from the heart of Washington, D.C., and available to all in the DMV area. Our staff is made up of drivers just like you, who take the same streets you do to go to work. Let them put their knowledge to work on your behalf and put your car or next car decision in the helpful hands of an expert that prioritizes what you want.
Visit DARCARS To Satisfy Your 2022 Volvo XC60 Needs Near Washington, D.C.
The 2022 Volvo XC60 is ready near Washington, D.C., and DARCARS Volvo Cars is ready too. Just a quick call or email will secure your spot in line for an SUV model that's always dressed to impress. Do you want a car that can do it all? If so, get in touch.
In addition to our smaller crossovers, midsize and compact SUV models, and heavenly hybrid models, we also have the full-bodied Volvo XC90 for sale. At DARCARS, we make a point of filling our dealership to the brim with excellent models, talented technicians, knowledgeable showroom professionals, and more. We can't wait to welcome you in soon and show you our new 2022 Volvo XC60 models.
---
1Starting at MSRP does not include configured options and destination fee.
22022 Volvo XC60 B5. For more information, please visit the official U.S. government source for all fuel economy at www.fueleconomy.gov.
Reviews On The Volvo XC60
"From the moment my wife and I arrived at Darcars Volvo to the moment we were handed the keys we had an outstanding experience! We were met by Andre who showed us the perfect xc60 for our family. Andre may be new to the Darcars family, but absolutely knows Volvo! Thanks Andre!" 5 stars, review by Josh Spencer, 6/25/2021
Leave A Review
---
Related Models & Research