2023 Volvo XC60

The Volvo XC60 for sale is back, and, to the surprise of absolutely nobody, it is a refreshed SUV model that earns top marks from end to end. Drivers just like you who want a car that can fit more than a sedan without being bulky beyond belief love how this crossover unleashes road trip possibilities. Choose this Volvo model and set up your cabin any way you like in a car that goes far between refueling stations.
View XC60 Inventory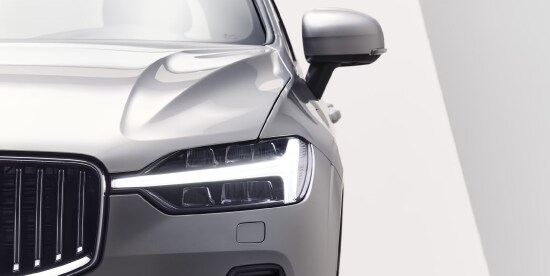 What's New for 2023 in the New Volvo XC60 for Sale?
Volvo Cars has revamped the lineup of available trims for the 2023 Volvo XC60. The Momentum, Inscription, and R-Design options are no longer available. Instead, we have the entry-level Core model, the mid-tier Plus, and the cream of the crop, the Ultimate trim. The plug-in hybrid Recharge version of this dynamic SUV is also available in each of these trims.
As a company, Volvo Cars is committed to electrification. To this end, the 2023 Volvo XC60 for sale is only offered as a mild or plug-in hybrid. This marks a departure from the previous model, which has gasoline-only powertrain options. Drivers benefit from this switch because mild-hybrid vehicles generally get better fuel economy than gasoline-only cars.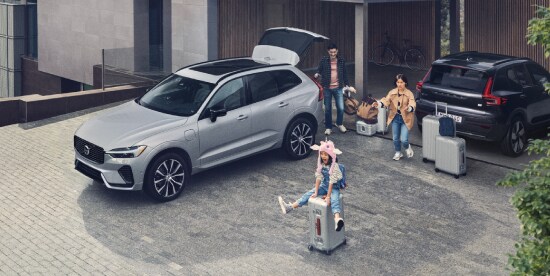 Volvo XC60 Safety Is Still Stupendous
Are you wondering what safety features can be found inside the 2023 Volvo XC60? It may be easier to find out what's not included — the Volvo XC60 seemingly has it all. Our vehicle experts are super excited about the forward-collision warning, blind-spot monitoring, driver attention warning, and rear cross-traffic collision-avoidance assist. Those features can be hard to come by in SUV models from Volvo Cars' competitors, but they come standard across the board in all Volvo XC60 trim levels. Passenger safety has always been a priority for Volvo Cars, and the new Volvo XC60 for sale is further evidence of this well-known fact.
---
Explore the Volvo XC60 Trims Available Now in Rockville, MD
A trio of trim levels is available for the Volvo XC60: Core, Plus, and Ultimate. Every version of the 2023 Volvo XC60 offers incredible value for your hard-earned money, whether you opt for the entry-level Core model or a top-of-the-line Volvo XC60 Ultimate. Keep reading to find out more information about each trim, so you can find out which one is right for you.
In addition to having all three trims available for sale, we also have several flexible Volvo XC60 lease deals available. Leasing a vehicle is a great option for folks who want to drive a brand-new car for a low monthly payment. Our vehicle experts can take you through what makes leasing a car beneficial. Ask our showroom team members about leasing an SUV the next time you visit us.
---
Volvo XC60 Core

What's Compelling About the Core Model?
The Volvo XC60 Core demonstrates that Volvo Cars is committed to driver satisfaction, no matter the trim they select. This version of the redesigned Volvo XC60 is rife with creature comforts and performance potential. Sleek Scandinavian design is the star of the show in a large car that looks as elegant as any luxury sports car.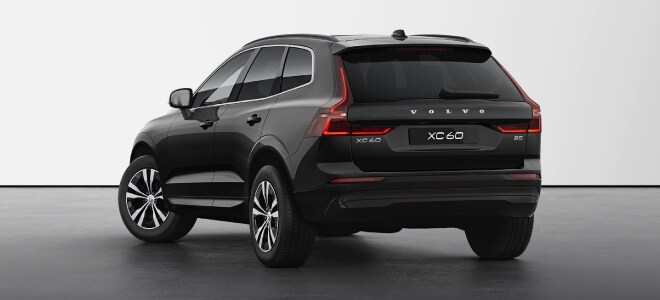 Performance
The new Volvo XC60 has the power you need to push through any obstacle in your path. The standard entry-level configuration of this vehicle is the Volvo XC60 B5 Core with front-wheel drive. The B5 powertrain pairs a turbocharged 2.0-liter four-cylinder engine with a 48-volt mild hybrid system for a total of 247 horsepower and 258 pound-feet of torque. This iteration of the new Volvo XC60 gets an EPA-estimated 23/30/26 MPG (city/highway/combined).1 It rides smoothly on 18-inch five-spoke diamond-cut wheels and looks great doing it.
Interior & Technology
The 2023 Volvo XC60 Core trim has Apple CarPlay® integrated for immediate access to navigation and entertainment options, built-in Google features like voice commands, and on-the-road Wi-Fi hotspot capabilities. Use Bluetooth to make your car's speakers come to life with your favorite song; it'll sound better than ever before due to a premium ten-speaker system that delivers front-row-concert music quality. Lock into a compelling podcast when you have a long ride. You'll find that when you're listening to a podcast inside the house, it'll be super easy to continue right from where you left off when you get in the car.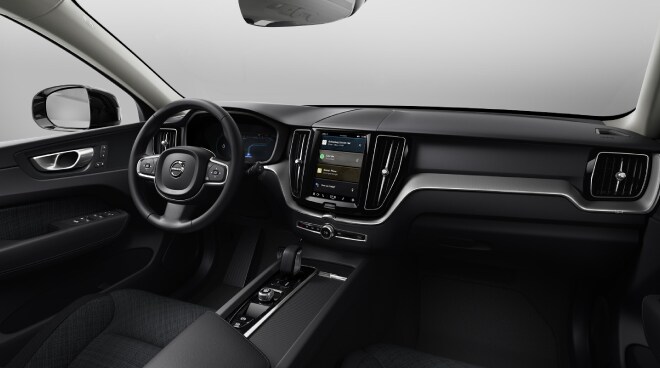 Features & Colors
The Volvo XC60 Core has two-zone climate control and an afterrun climate feature that keeps your car warm or cool after you turn it off. You can also select one of many exterior color choices and create an SUV model that you're excited to drive. Bright Dusk, Crystal White, Fusion Red, Silver Dawn, Thunder Grey, and other colors are available at our dealership in Rockville, MD. The interior of the entry-level Volvo XC60 for sale comes with Charcoal City Weave interior upholstery, but charcoal and blond leatherette are available.
Volvo XC60 Plus

Make Your Mark in the 2023 Volvo XC60 Plus
The Plus trim of the redesigned Volvo XC60 pairs the excellent value of the Core version with an even more compelling lineup of luxury features and cutting-edge technology. Your neighbors are liable to turn green with envy when you park this sleek new SUV in the driveway, and you'll be the object of lots of positive attention when you drive around in this dynamic vehicle.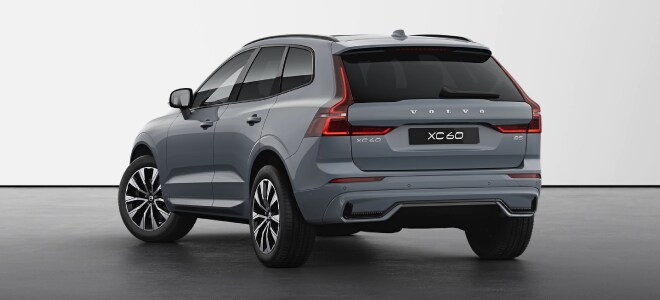 Performance
The Plus trim comes standard with the B5 powertrain described above. You can, however, switch it out for an all-wheel drive version of the B5 configuration. This changes the car's fuel economy rating to an EPA-estimated 23/29/25 MPG (city/highway/combined).1 The Volvo XC60 B5 Plus is well-equipped to help you and your loved ones save at the pump. It has 19-inch 5-V spoke Graphite diamond cut wheels and glossy black roof rails too, which you can strap a canoe to for a family getaway on the water near Washington, D.C.
Interior & Technology
The Plus trim offers a host of upgrades to the aesthetics of the Volvo XC60 cabin. You'll enjoy the standard leather upholstery, lime wood accents, and integrated internal lighting that can illuminate the car's cup holders and other crevices for a more homey feel. Your passengers will have no choice but to comment on the gorgeous interior of your vehicle. The Plus trim adds adaptive cruise control to your suite of driving features, which helps manage the tedium of trips on the highway.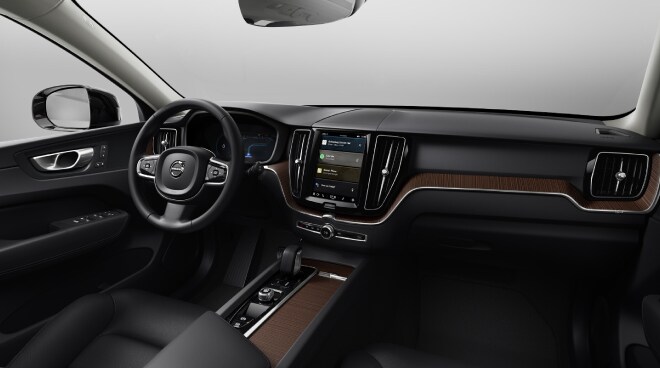 Features & Upgrades
Some features that you should ensure you take note of are the remote services that allow you to control your Volvo XC60 for sale from your smartphone before you even enter the car. You can lock your doors, locate your car in a crowded parking lot, and more. The Volvo Cars App is quite helpful, to say the least. Once inside the vehicle, you can enjoy bountiful natural light thanks to the power panoramic moonroof. When the kids need to sleep, you can close it with just the press of a button.
Volvo XC60 Ultimate

Race Through Your Neighborhood in a Volvo XC60 Ultimate
The top-tier 2023 Volvo XC60 is like something out of a sci-fi flick. It has incredible performance potential and a futuristic graphical heads-up display that projects navigation directions and other essential information directly onto the bottom of your windshield, allowing you to stay informed without having to glance away from the road. A 14-speaker sound system rounds out the car, enveloping you and yours in beautiful music.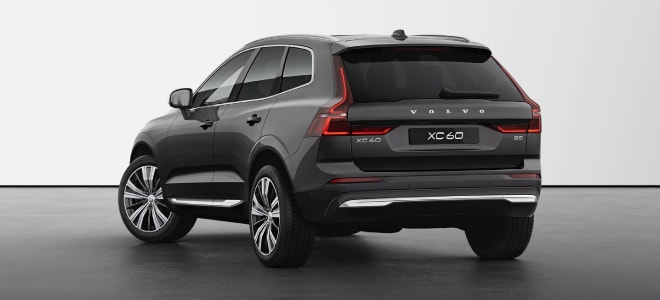 Performance
Like the other two models of the Volvo XC60, the Ultimate trim comes standard with the B5 powertrain and front-wheel drive. The B6 is available, however, and it comes with a supercharger. This raises the horsepower output of the car to 295. You'll be racing down the roads in Rockville, MD, with the B6 configuration. Whether you pick this upgraded engine or a Volvo XC60 B5 Ultimate, you'll enjoy 20-inch diamond-cut alloy wheels and bright aluminum roof rails.
Interior & Technology
The Ultimate trim comes standard with ventilated Nappa leather upholstery, a genuine crystal gear selector knob, and heated and ventilated front seats. This vehicle is both supremely comfortable and majestically equipped with luxury features. You will feel like a monarch when you cruise down the road in this incredible Volvo SUV. The four-zone climate control system will allow everyone in the car to be comfortable.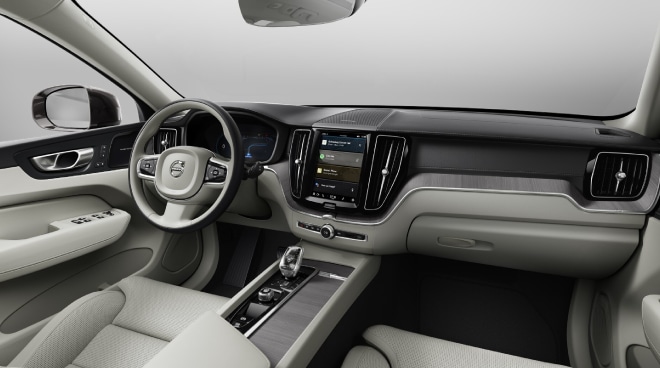 Features & Upgrades
Drive the car that announces your presence wherever you pull up. The new Volvo XC60 for sale boasts striking combinations of Nappa leather and real lime wood inlays when you open the doors. Plentiful USB ports allow passengers around the cabin to stay plugged into their favorite devices. This car truly is the Ultimate expression of the Volvo Cars design philosophy; it offers incredible performance potential and a truly luxurious interior for you and your family to enjoy.
FAQs about the 2023 Volvo XC60
The Volvo XC60 B5 is powered by a turbocharged 2.0-liter four-cylinder engine and a 48-volt mild-hybrid electrical system. This powertrain makes 247 horsepower and 258 pound-feet of torque. The B6 configuration adds a supercharger to the B5 setup, which raises the horsepower output to 295 and the torque rating to 310 pound-feet. The B5 comes with front-wheel drive but has all-wheel drive available, whereas the B6 is always all-wheel drive.
Leasing or buying is a personal decision; the better option depends on your circumstances. At our dealership, buying or leasing a car will never be based on anything but you and your driving situation — in other words, what you want out of your next car. And to make things easier, we offer both lease and finance deals here at DARCARS Volvo Cars. Our experts know the entire car business inside and out and can explain the benefits of both options.
It doesn't take much time at all to get from the nation's capital to our location. DARCARS is approximately a 30-minute cruise from the heart of Washington, D.C., and available to all in the DMV area. Our staff is made up of drivers just like you, who take the same streets you do to go to work. Let them put their knowledge to work on your behalf and put your car or next car decision in the helpful hands of an expert that prioritizes what you want.
Visit DARCARS Volvo Cars To Satisfy Your 2023 Volvo XC60 Needs Near Washington, D.C.
We are proud to offer the full lineup of Volvo vehicles at our dealership in Rockville, MD, including the luxury three-row Volvo XC90 for sale. No matter which car you're interested in, our dealership is a great place to shop for it. Our team is friendly and helpful, and our financing options are competitive. Visit our lot near Washington, D.C., today in order to test drive our Volvo XC60 Recharge or any other version of this bold new Volvo SUV.
Reviews On The Volvo XC60
"From the moment my wife and I arrived at Darcars Volvo to the moment we were handed the keys we had an outstanding experience! We were met by Andre who showed us the perfect xc60 for our family. Andre may be new to the Darcars family, but absolutely knows Volvo! Thanks Andre!" 5 stars, review by Josh Spencer, 6/25/2021
Leave A Review
* Indicates a required field
---
Related Models & Research
---
1For more information, please visit the official US government source for all fuel economy at www.fueleconomy.gov