2022 Volvo XC40 For Sale In Rockville, Near Washington DC

We stock a wide selection of the exciting new Volvo XC40 for sale at our dealership in Rockville, MD. If you're looking for a new AWD SUV that gives you the eco-conscious drive of electrification, the tech of a 360° camera, and the fun of a vehicle designed for the city and the trail, then don't miss our Volvo XC40 lease deals.
If that is your first time seeing the words "mild hybrid," you might be asking, "What is a mild hybrid?" Along with, "Is that the same as the Volvo XC40 Recharge?" We're glad you asked. A mild hybrid offers both a gasoline-powered engine and a battery that recovers energy when you brake, but does not run on battery power alone. Schedule your test drive and learn more about this inspired innovation.
View XC40 Inventory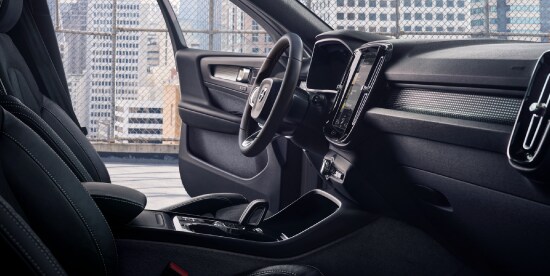 What's New for 2022
If you're comparing the Volvo XC60 for sale to the new Volvo XC40, you'll be glad to know the XC40 SUV brings several advancements and innovations for the 2022 model year. Along with Mild Hybrid technology that helps you enjoy a more efficient drive, the new 2022 Volvo XC40 comes with smartphone integration and advanced driver assistance technology.
When it comes to keeping you connected to your world, the Apple CarPlay® system offers seamless integration between your new Volvo SUV lease special and your compatible iPhone®. If you aren't familiar with the benefits of Apple CarPlay®, you can control your phone's functions through your car's display. Field calls, respond to text messages, and listen to your favorite podcast and audiobooks while enjoying turn-by-turn navigation.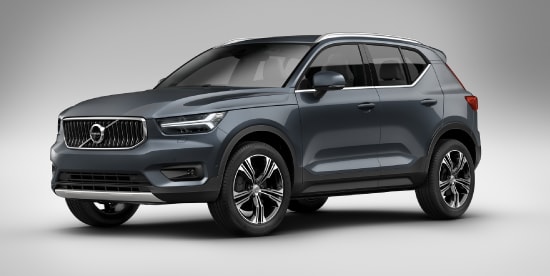 Volvo XC40 Safety
If you're shopping for a new SUV to transport your family, you're also looking for a car that helps keep you safe and brings peace of mind in the driver's seat. The new 2022 Volvo XC40 is that vehicle. The new XC40 crossover SUV comes with safety tech that helps you maintain a safe following distance from the traffic ahead by monitoring your speed and adjusting it accordingly.
The 2022 Volvo XC40 can also help you stay centered in your lane of traffic by intervening with subtle steering adjustments if your Volvo vehicle detects you might be drifting in your lane.
---
Explore XC40 Trims
The 2022 Volvo XC40 arrives in three exciting model styles to shop and compare. Let's look at a few highlights on each trim to help you narrow down your search. The XC40 Momentum comes with a 12-inch instrument panel, Lane Keeping Aid, and a dynamic chassis.
The XC40 Inscription offers front and rear park assist, 18-inch six-spoke black diamond-cut alloy wheels, and the sleek style of hidden tailpipes. The sporty XC40 R-Design comes with cutting-edge aluminum decor and Nubuck/Nappa leather upholstery.
---
XC40 Momentum

Overview & Pricing
The new 2022 Volvo XC40 Momentum is available from a $35,195 starting MSRP.1 There are several attractive exterior paint options to choose from, including Fusion Red, Black Stone, and Denim Blue. The new 2022 Volvo XC40 also offers three different wheel options to pair with your personal aesthetic and driving style. For added features, be sure to compare the available packages you can add to your vehicle.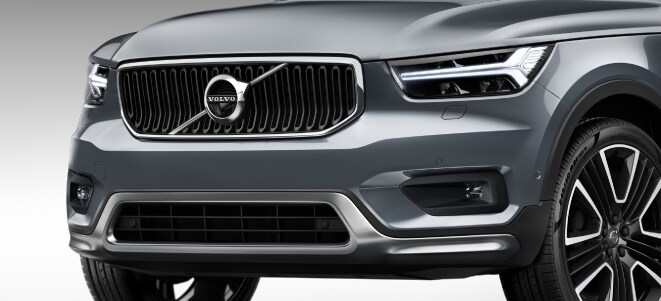 Performance
The standard T4 FWD powertrain is geared by an automatic transmission and accelerates your new Volvo SUV from 0 to 60 mph in 8.1 seconds, thanks to its 187 horsepower and 221 pound-foot of torque. The Volvo T4 powertrain also produces an EPA-estimated 32 mpg2 on the highway and offers a maximum towing capacity of 3,500 pounds (when properly equipped). Drivers who add the optional T5 AWD powertrain gain a faster 0-60 mph time of 6.1 seconds.
Interior & Tech
The new 2022 Volvo XC40 delivers an interior that is stylish and functional thanks to her premium materials and 57.5 cubic feet of cargo capacity. The leather upholstery, Urban Grid aluminum decor, and tailored steering wheel all create a luxurious ride. The seating also offers a charcoal Nubuck textiles and Nappa leather combination that is attractive and comfortable. There are multiple packages that can be added to your design, including the Protection Package Premier, which is popular among drivers with smaller family members who might have sticky fingers.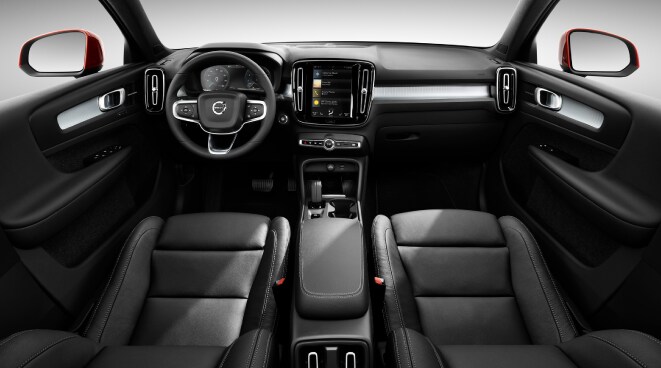 Features & Upgrades
Along with the advanced driver-assist safety systems and connected Apple CarPlay® integration, your new Volvo XC40 comes with several tech and audio features to help you cruise in comfort. The high-performance sound system creates a concert experience behind the wheel as you play your favorite highway soundtrack. You audiophiles out there will be interested in adding the optional Harman Kardon Premium Sound package that delivers a beautifully balanced, powerful sound in a high-class audio system. Treat you and your passengers to a first-class listening experience from every seat.
XC40 Inscription

Overview & Pricing
The new 2022 Volvo XC40 Inscription delivers unique wheels, chrome exterior detailing, and leather seating and can be yours from a $40,945 starting MSRP.1 Highlights on this model include increased safety systems, including front and rear Park Assist, and added luxury. After you pick out an XC40 in your favorite color and spec the wheels, be sure to consider the Exterior Styling Kit that gives your XC40 a more rugged and sporty look. Features on this package include front/rear skid plates, brushed stainless steel detailing, and lower door trim moldings for a more distinctive look.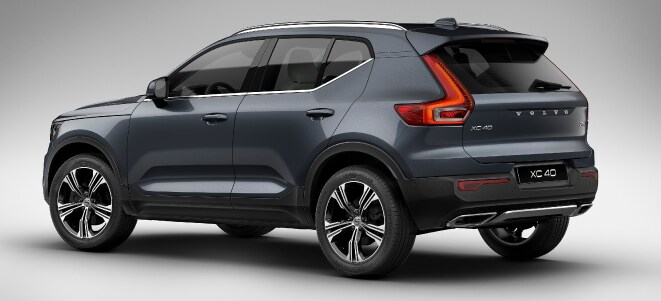 Performance
The 2022 Volvo XC40 Inscription comes standard with the T4 FWD powertrain and can be upgraded to the T5 powertrain for drivers who enjoy the increased performance and handling of AWD. The T5 AWD also delivers faster acceleration than the T4. The T4 and T5 powertrains deliver the same performance specs in the XC40 Inscription as the XC40 Momentum, so drivers can expect the same acceleration, towing capacity, and fuel consumption. If you have an active lifestyle, be sure to add the Pack & Load features that match your needs. Popular Volvo accessories in our parts department include the Aluminum Bicycle Holder, Trailer Hitch Bike Carrier, and Retractable Ski Holder.
Interior & Tech
Sliding inside the Volvo XC40 Inscription, we find a standard leather interior available in Charcoal, Amber, or Blond. Her sleek sunroof blurs the lines between the interior and the outside world as fresh air and sunlight fill the cabin. When the cold months hit the District, you'll be glad you added the available Climate package to your XC40 Inscription. This package includes a heated steering wheel, heated rear seats, and a high-pressure cleaning system to remove dirt and debris from the headlights.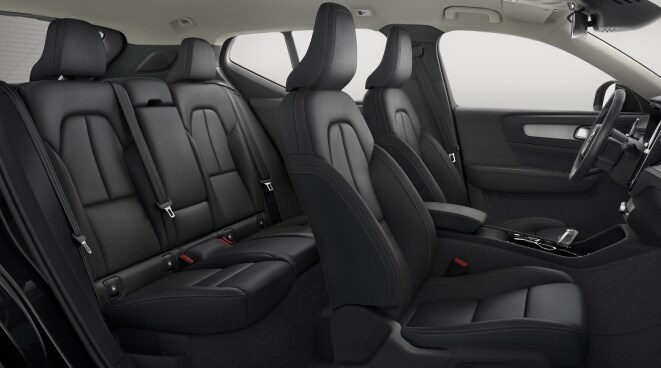 Features & Upgrades
When building your new 2022 Volvo XC40 Mild Hybrid, be sure to ask our sales team about what's included in the Advanced Package. This package upgrades your ride with the 360° Surround View Camera that helps you maneuver out of tricky parking spaces. Five views, including a bird's-eye view, help you see the entire area around your vehicle, so you can park or hitch to a trailer with ease. The Pilot Assist with Driver Assistance System & Adaptive Cruise Control also comes in the Advanced Package to help you maintain a safe distance from the car in front of you.
XC40 R-Design

Overview & Pricing
The dynamic and stylish XC40 R-Design boasts a $40,445 starting MSRP1 and is for drivers who love active driving and sporty design. Along with her glossy black detailing on the mirror covers and roof rails, the XC40 R-Design boasts hidden tailpipes, a silver skid plate, high-gloss black side window trim, and unique 19-inch wheels. When one walks around the exterior, one's eye also immediately notices the laminated panoramic moonroof with power sunshade, tinted rear windows, and distinctive R-Design grille with high-gloss black insert.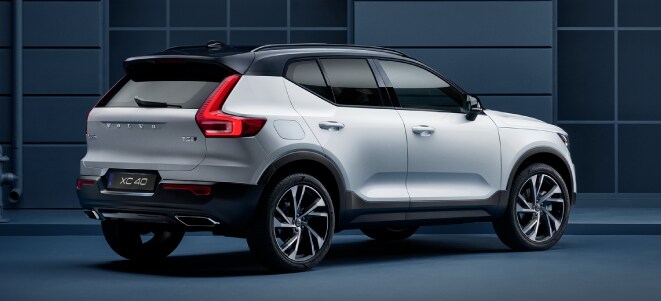 Performance
The Volvo XC40 R-Design comes with your choice of turbocharged powertrains. The T4 FWD R-Design delivers 187 horsepower, 221 pound-foot of torque, and an EPA-estimated 23/32/26 mpg2 (City/Highway/Combined). If you're looking for more performance and the increased handling of AWD in the rain and snow, the T5 AWD R-Design produces 248 horsepower and 258 pound-foot of torque, but a slightly lower EPA-estimated 22/30/25 mpg2 (City/Highway/Combined). In a Volvo Cars towing comparison, each powertrain can tow up to 3,500 pounds when the vehicle is properly equipped.
Interior & Tech
Regardless of the powertrain you choose to motivate your drive, the interior dimensions of this two-row, five-seater SUV remain the same. The 2022 Volvo XC40 offers 39 inches of front headroom, 40.9 inches of front legroom, and 36.1 inches of rear legroom. Once you slip behind the wheel, you find a cabin that offers Nubuck/Nappa leather upholstery, a tailored sport steering wheel, and a 12-inch instrument panel that keeps you up to date with pertinent road information. Connect your compatible smartphone to the high-performance audio system and hit the road.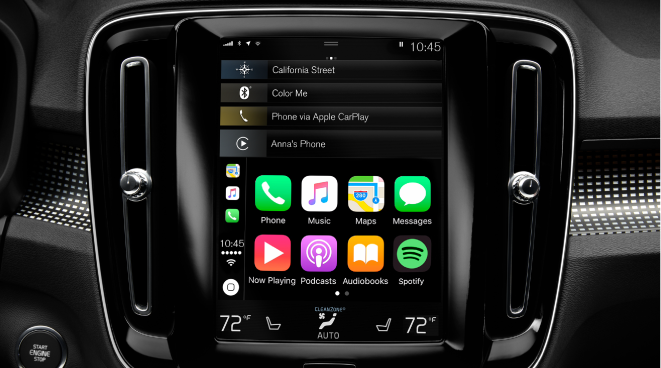 Features & Upgrades
The features on the 2022 Volvo XC40 start before you leave the house. When you download the Volvo Cars app to your compatible device, you can preheat or precool the interior climate of your XC40 to your desired temperature before setting off. If you're staring out the window on a snowy morning, turn on the heat in your XC40 to make the interior warm and cozy before you climb inside. Hot and humid out? Fire up the A/C. Then once inside, avoid the mess of cables and wires while keeping your phone fully charged, thanks to the wireless charging pad for compatible devices.
Frequently Asked Questions
The T4 FWD powertrain delivers the same performance numbers across the XC40 Inscription, Momentum, and R-Design trim models. The direct-injected turbocharged engine sends 187 horsepower and 221 pound-foot of torque to the FWD powertrain and can tow up to 3,500 pounds when properly equipped. The T5 AWD powertrain is a $2,000 upgrade available on all three trim styles. The T5 AWD offers an AWD system for better traction in the rain and snow, as well as greater engine performance. The T5 AWD delivers 248 horsepower and 258 pound-foot of torque with slightly lower overall fuel economy.
Some of the most common questions we get at our dealership are: "What's the difference between financing vs. leasing? Which method is better?" The truth is, it depends on your circumstances, as everybody is different. Leasing and financing both come with different benefits. That's why we offer lease deals and finance specials on new Volvo cars for sale. We want to help everybody find a way to buy a car that meets their needs. Tell us about the $0 lease deal you want, and we'll put together custom lease packages for you to compare.
Our Volvo dealership near you is a quick 30-minute cruise from nearby Washington D.C. If you're looking for a full-service car dealership that can be your home for lease deals on new cars, as well as professional auto repair and discount oil changes, start your relationship with our team today. Give us a call, and we'll give you directions to our convenient location, then be waiting to greet you when you arrive. Tell us what 2022 Volvo XC40 trim style and color caught your eye, and we'll have a few attractive options waiting for when you get here.
Visit DARCARS for All Your XC40 Needs Near Washington D.C.
Thank you for taking the time to learn more about our Volvo dealership near Washington D.C. We are proud to be your home for lease specials and finance offers on the 2022 Volvo XC40. If you're tired of reading our Volvo XC40 Mild Hybrid review and are ready to get behind the wheel to experience what this new Volvo Mild Hybrid SUV can do, take the short drive to our Volvo Cars dealer. Our finance team is ready to tell you about custom lease deals and low APR finance offers. We hope to see you soon.
---
1Prices shown are Manufacturer's Suggested Retail Price (MSRP), Base Price or Starting At price and excludes destination fees, taxes, title, license, and registration and/or electronic filing fees, dealer fees.
2For more information, please visit the official US government source for all fuel economy at www.fueleconomy.gov
---
Related Models & Research