2023 Volvo XC40 For Sale In Rockville, Near Washington, D.C.

We stock a wide selection of the exciting new 2023 Volvo XC40 for sale at our dealership in Rockville, MD. If you're looking for a new SUV with the convenience of Google built-in, the tech of a 360° camera, and the fun of a vehicle designed for the city and the trail, then don't miss our Volvo XC40 lease deals.
The 2023 Volvo XC40 is a mild hybrid, which means you enjoy the benefits of hybrid technology without needing to plug in the vehicle to charge the battery. If that is your first time seeing the words "mild hybrid," you might be asking, "What is a mild hybrid?"
We're glad you asked. A mild hybrid offers a gasoline-powered engine and a battery that recovers energy when you brake but does not run on battery power alone. Mild hybrid SUVs increase fuel economy while reducing tailpipe emissions. Schedule your test drive and learn more about this inspired innovation.
View XC40 Inventory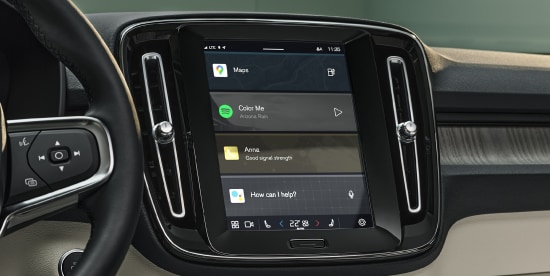 What's New for 2023
The new 2023 Volvo XC40 brings several advancements and innovations for the 2023 model year. The new XC40 mild hybrid comes with a Harman Kardon premium sound system, air purifier, and a suite of driver assistance technology, including a cross-traffic alert. To learn more about the new 2023 Volvo XC40 with smartphone integration and advanced driver assistance technology, we invite you to visit our dealership and compare the 2023 XC40 vs. the new Volvo XC60 for sale.
When it comes to keeping you connected to your world, Apple CarPlay® offers seamless integration between your new Volvo SUV lease special and your compatible iPhone®. If you aren't familiar with the benefits of Apple CarPlay®, you can control your phone's functions through your car's display to field calls, respond to text messages, and listen to your favorite new audiobook while enjoying turn-by-turn navigation.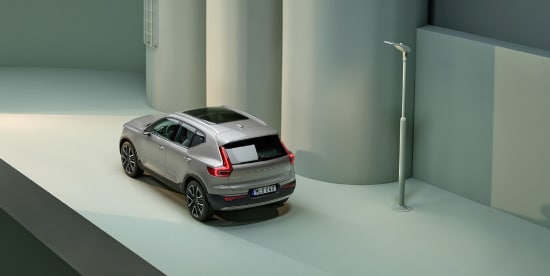 Volvo XC40 Safety
If you're shopping for a new SUV to transport your family, you're also looking for a car that helps keep you safe and brings peace of mind in the driver's seat. The new 2023 Volvo XC40 is that vehicle. The XC40 compact SUV comes with safety tech that helps you maintain a safe following distance from the traffic ahead by monitoring your speed and adjusting it accordingly.
The 2023 Volvo XC40 can also help you stay centered in your lane of traffic by intervening with subtle steering adjustments if your Volvo vehicle detects you might be drifting in your lane.
---
Explore XC40 Trims
The 2023 Volvo XC40 arrives in three exciting model styles to shop and compare: XC40 Core, XC40 Plus, and XC40 Ultimate. Let's look at a few highlights on each trim to help you narrow down your search. The new 2023 Volvo XC40 also arrives with a menu of available packages, wheel upgrades, and premium paint options. Several attractive exterior paint options include Fusion Red, Fjord Blue, Sage Green, Black Stone, and Crystal White.
---
XC40 Core

XC40 Core Trim Overview
The 2023 XC40 Core is equipped with an Urban Grid aluminum decor, premium textile upholstery, and interior mid-level illumination.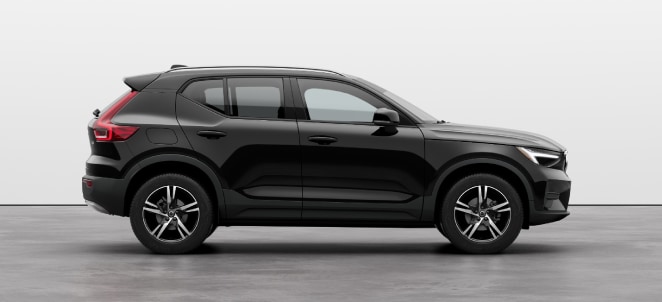 Performance
The standard B4 FWD powertrain boasts a direct-injected turbocharged engine with 194 horsepower and 221 pound-feet of torque. The B5 AWD powertrain increases the performance output to 247 horsepower and 258 pound-feet of torque while also adding the handling of all-wheel drive.
When it comes to fuel consumption, the B4 FWD delivers an EPA-estimated 24/32/27 MPG1 (City/Highway/Combined) from its two-liter engine. As with all AWD vehicles, fuel numbers fall slightly to an EPA-estimated 23/30/26 MPG1 (City/Highway/Combined) in the B5 AWD models.
Interior & Tech
The new 2023 Volvo XC40 delivers a stylish and functional interior thanks to its premium materials and 57.5 cubic feet of cargo capacity. The premium textile upholstery and sculpted gear selector create a luxurious ride. You'll have small storage areas up front, a folding bag hook, and a front center armrest for added comfort. Multiple packages can be added to your design, including the Protection Package Premier, popular among drivers with smaller family members who might have sticky fingers.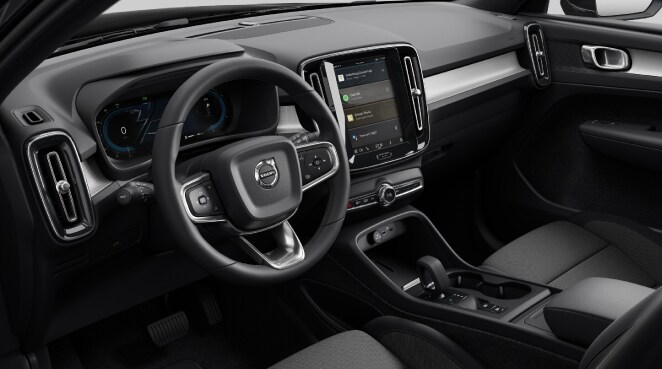 Features & Upgrades
Along with the advanced driver-assist safety systems and Google built-in, the 2023 Volvo XC40 comes with several tech and audio features to help you cruise in comfort. Apple CarPlay® helps you enjoy a concert experience in the driver's seat while you play your favorite soundtrack down the highway. When you need hands-free help or navigation, your Bluetooth® connection is there. You audiophiles will be interested in the high-performance audio system that delivers beautifully balanced and powerful sound. Treat yourself and your passengers to a first-class listening experience from every seat.
XC40 Plus

XC40 Plus Trim Overview
The mid-range XC40 Plus adds Black Stone door mirror covers, cutting-edge aluminum decor, and a laminated panoramic moonroof to the list of standard features. Highlights on this mild hybrid include increased safety systems, including HomeLink® and automatically dimmed inner rearview mirror with compass.
After choosing an XC40 Plus SUV in your favorite color and spec the wheels, consider the Exterior Styling Kit that gives your XC40 a more rugged and sporty look. Features on this package include front/rear skid plates, brushed stainless steel detailing, and lower door trim moldings for a more distinctive look.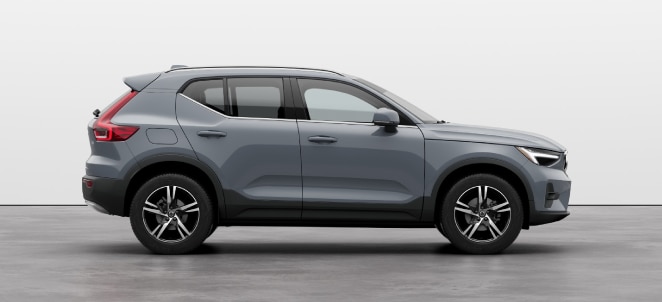 Performance
The 2023 Volvo XC40 Plus has the same powertrain as the XC40 Core so that drivers can expect the same acceleration stats, horsepower, and fuel consumption. The engine pairs with an eight-speed Geartronic™ automatic transmission with Hill Descent Control. The XC40 Plus trim adds front and rear Park Assist and fog lights to help you see and be seen. If you have an active lifestyle, add Pack & Load features that match your needs. Popular Volvo accessories in our parts department include the Aluminum Bicycle Holder, Trailer Hitch Bike Carrier, and Retractable Ski Holder.
Interior & Tech
Sliding inside the Volvo XC40 Plus, we find a glossy black tunnel console and high-level interior illumination. Notable interior upgrades on the Plus trim include:
A power passenger seat
Power-folding rear head restraints
Manual cushion extensions for driver and passenger
When the cold months hit, you'll be glad you added the available Climate package to your XC40 Plus. This package includes a heated steering wheel, heated rear seats, and a high-pressure cleaning system to remove dirt and debris from the headlights.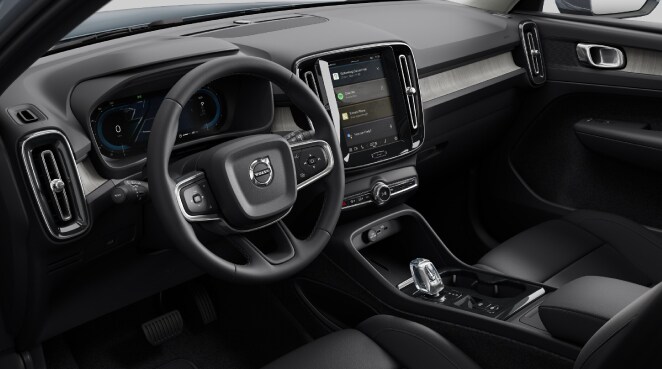 Features & Upgrades
When building your new 2023 Volvo XC40 mild hybrid, ask our sales team about what's included in the Advanced Package. This package upgrades your ride with the 360° Surround View Camera that helps you maneuver out of tricky parking spaces. Five views, including a bird's-eye view, help you see the entire area around your vehicle so that you can easily park or hitch to a trailer. The Pilot Assist with Driver Assistance System & Adaptive Cruise Control also comes in the Advanced Package to help you maintain a safe distance from the car in front of you.
XC40 Ultimate

XC40 Ultimate Trim Overview
In the top-of-the-line XC40 Ultimate, drivers are treated to a crystal gear selector knob by Orrefors®, a high-gloss front grille with a chrome frame, and adaptive cruise control. The dynamic and stylish XC40 Ultimate is for drivers who love active driving and sporty design. Along with the high-gloss front grille, the XC40 Ultimate is the highest equipment and boasts advanced connectivity and optimum comfort for you and your passengers.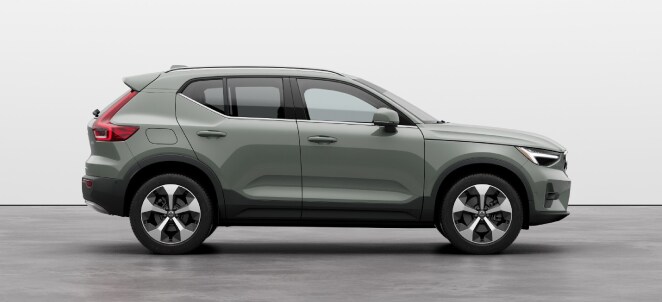 Performance
The upgrades to the XC40 Ultimate are focused on style and comfort. This trim level shares the same engine options and powertrain configurations as the XC40 Core and XC40 Plus trim variants. Regarding towing, the B4 FWD and B5 AWD powertrain options can tow up to 3,500 pounds when the vehicle is properly equipped.
Interior & Tech
While the Crystal gear selector knob by Orrefors® is a highlight of the XC40 Ultimate, this trim level also includes driftwood decor throughout the cabin and charcoal tailored steering wheel. When loading up for family adventures, you'll be glad you chose this model for its stainless steel tailgate scuff plate that helps you keep your new car in showroom condition.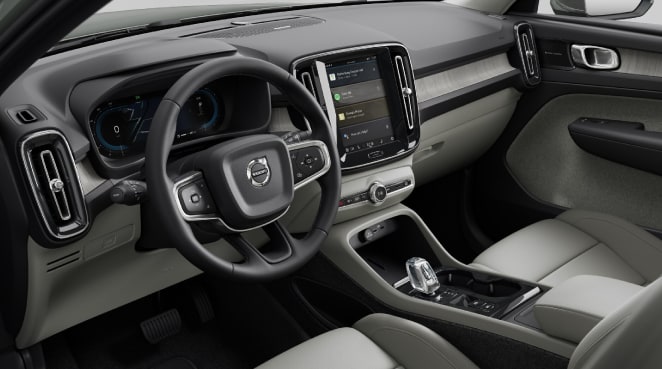 Features & Upgrades
The XC40 Ultimate mild hybrid for sale adds several driver assistance features to the window sticker spec sheet. Along with front and rear park assist, you now have a side park assist and a 360-degree camera with an overhead view for parking. Pilot Assist and Adaptive Cruise Control are standard features on this trim variant for added highway safety. When you want the best sound system in a Volvo XC40, the Ultimate trim gives you the ultimate sound through a Harman Kardon Premium Sound system paired with an air-ventilated subwoofer.
Frequently Asked Questions
The B4 FWD features a front-wheel-drive powertrain with a direct-injected turbocharged engine with 194 horsepower and 221 pound-feet of torque. The B5 AWD is an all-wheel drive and increases the power output from the two-liter engine to 247 horsepower and 258 pound-feet of torque. Essentially, the B4 is FWD with better fuel economy. The B5 is AWD with better performance.
One of the most common questions we hear at our dealership is, "What's the difference between buying vs. leasing?" Buying and leasing have different benefits, and the choice depends on your needs and preferences. We offer lease deals and finance specials on new Volvo cars for sale to appeal to both buying styles. We want to help everybody find a way to buy a car that meets their needs. Tell us about the $0 lease deal you want, and we'll put together custom lease packages for you to compare.
Our nearby Volvo dealership near Washington, D.C., is a quick 30-minute drive away. Start your relationship with our team today if you're looking for a full-service car dealership that can be your home for lease deals, auto repair, and discount oil changes. Call for directions to our convenient location, and we'll be waiting to greet you. Tell us what 2023 Volvo XC40 trim style and color caught your eye, and we'll have a few attractive options waiting for when you get here.
Visit DARCARS Volvo Cars near Washington, D.C.
Thank you for taking the time to learn more about our Volvo dealership near Washington, D.C. We are proud to be your home for lease specials and finance offers on the 2023 Volvo XC40. If you're tired of reading our Volvo XC40 review and are ready to get behind the wheel to experience what this new mild hybrid SUV can do, take the short drive to our Volvo Cars dealer. Our finance team is ready to tell you about custom lease deals and low APR finance offers. We hope to see you soon.
Leave A Review Of Your Volvo XC40
"Went to look at XC40's. Bought one. Great dealer. Am a car guy. Ideal experience in this COVID period. Very considerate and empathetic. Great salesperson - clear offer (that was very fair). So we bought the car. " 5 stars, review by Jeffrey B., 10/28/21
Leave a Review
* Indicates a required field
---
Related Models & Research
---
1For more information, please visit the official US government source for all fuel economy at www.fueleconomy.gov