2022 Volvo S90

Our new 2022 Volvo S90 for sale is a luxury sedan like no other. Volvo Cars makes dynamic and luxurious vehicles in a minimalist style; cars like the Volvo S90 are not gaudy but rather elegant and refined. You'll turn heads everywhere you go in your new Volvo S90.
This car is brimming with cutting-edge safety and infotainment technology, gets great mileage, and is comfortable enough to keep your whole family happy. In this article, we explore every aspect of the luxurious 2022 Volvo S90.
View S90 Inventory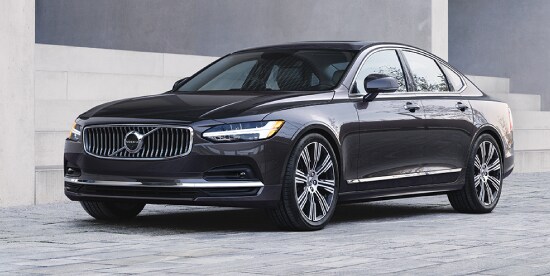 What's New for 2022?
There are three main upgrades to the 2022 Volvo S90 for this model year. The first is the replacement of the engine. The previous version of the vehicle used a turbocharged and supercharged 2.0-liter four-cylinder. This same configuration appears on the current Volvo S90, but it now features a 48-volt hybrid system that improves its fuel efficiency and increases the car's horsepower output to 295.
The plug-in hybrid versions also get an upgrade. Horsepower is increased to 455, and gets a longer all-electric driving range. The 2022 Volvo S90 is now also equipped with a brand-new Android™ infotainment system that will make setting up your music and navigation a breeze in Rockville, MD.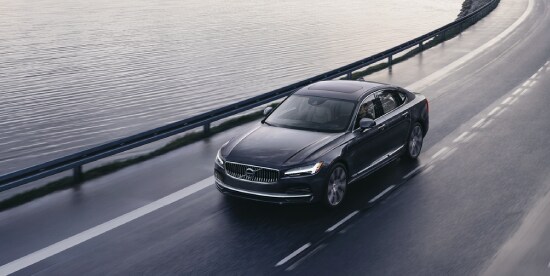 Volvo S90 Safety
The 2022 Volvo S90 is replete with advanced safety features. Every model enjoys standard safety equipment that includes:
Forward-collision warning
Automated emergency braking
Lane-keeping assist
Adaptive cruise control
Blind-spot monitoring
Rear cross-traffic alerts
This slew of features will help keep you and your loved ones safe on the roads near Washington, D.C. Technology like the blind-spot monitoring system is particularly helpful in busy driving environments like the Beltway, where people are frequently shifting lanes. You'll appreciate the refined safety-centric design of the 2022 Volvo S90 as you drive around the area.
---
Exploring the Vivacious Volvo S90 Trims
There are three trims available for the 2022 Volvo S90. Two of them are available as plug-in hybrid vehicles. The entry-level Momentum trim is anything but basic; it has all of the safety features mentioned above, leather upholstery, and more. The Inscription trim is offered with the mild-hybrid powertrain and the plug-in hybrid configuration. The top-tier Volvo S90 is called the R-Design, which is brimming with features and creature comforts.
---
Volvo S90 Inscription
---
Overview & Pricing
The mid-tier trim of the 2022 Volvo S90, the Inscription trim, takes the already-impressive Momentum version of the luxury sedan and improves on it. It also offers the Recharge plug-in hybrid powertrain, which increases the car's fuel economy tremendously. The Volvo S90 Inscription can be yours for a $55,995 starting MSRP.1 The Volvo S90 Inscription Recharge, for its part, has a $61,050 starting MSRP.1
Performance
The mild-hybrid Volvo S90 Inscription uses the same B6 powertrain found in the Momentum version of the vehicle, which is a turbocharged and supercharged 2.0-liter engine with a 48-volt hybrid system that makes 295 horsepower. The Recharge version, however, swaps out the 48-volt hybrid system for a plug-in hybrid battery-and-motor configuration. The powertrain elements combine to make a stunning 455 horsepower that can launch the Volvo S90 Inscription Recharge from 0 to 60 in about four and a half seconds.
Interior & Tech
The Inscription trim offers drivers even more choices regarding the colors they'll enjoy in the luxury sedan's cabin. In addition to the Charcoal and Blond leather choices, you can have Slate or Amber-colored upholstery. Gray Ash wood joins the genuine wood interior accent options for good measure. You and your passengers will be riding in true luxury in a new Volvo S90 Inscription.
The Volvo S90 Inscription is also rife with features not found on the Momentum version of the car. It features 19-inch 10-spoke Black diamond-cut alloy wheels, color-matched door handles, and an Inscription-specific front grille with a chrome bar insert and frame. The cabin sports a crystal gear knob selector, remote key, tailored dash panels, and ventilated seating.
Another impressive facet of the Volvo S90 Inscription is its Google™ integration. Your car will be able to sync to your Google™ account, meaning that calendar appointments and other valuable features of your digital life will be available through your vehicle. This will help you keep your hands off your phone while you drive, and ought to assist you in remembering your appointments, too.
Features & Upgrades
The musical experience of the Volvo S90 Inscription is even more impressive than that of the Momentum. Where the base trim has a 220-watt 10-speaker sound system, the Inscription trim features a 660-watt 14-speaker Bowers & Wilkins® sound system. You'll be immersed in the musical stylings of your favorite artists and groups in a profound way. The Inscription trim features the same three optional packages that are available for the Momentum trim: the Climate, Advanced, and Protection Premier packages.
Volvo S90 Momentum
---
Overview & Pricing
The 2022 Volvo S90 Momentum is the base model for this stylish luxury sedan, but it is replete with cutting-edge technology and raw power. This version of the vehicle is available from a $52,895 starting MSRP.1 This is an incredible value for this superb car. It is almost decadent between the genuine walnut trim and leather upholstery, to say nothing of the engaging technological interface and the powerful engine.
Performance
Speaking of the engine, it's important to note that it achieves great fuel economy and is rather muscular. The turbocharged and supercharged 2.0-liter engine makes an impressive 295 horsepower and is paired with a responsive eight-speed automatic transmission. The Momentum trim features standard all-wheel drive.
The excellent engineering of the B6 powertrain, as the turbocharged and supercharged engine is called, gives it great gas mileage. The 2022 Volvo S90 Momentum gets an EPA-estimated 23/31/26 MPG (city/highway/combined).2 During this time of high fuel prices, this luxury Volvo sedan will help you and your loved ones save at the pump.
Interior & Tech
The vehicle's interior is just as impressive as its performance specs. You can choose either charcoal or blond leather for no additional cost. You'll enjoy wireless charging of your cell phone, and the beauty of your favorite music will wash over you as the sound emanates from the premium 220-watt ten-speaker audio system.
Every new 2022 Volvo S90 comes with four years of premium digital services. You'll have access to Google Maps™, Google Assistant™, and Google Play™ through the nine-inch touch screen in the front of the vehicle. In addition, you'll be treated to a leather-wrapped steering wheel, heated front seats, and a two-zone climate control system that can keep everyone in the vehicle comfortable.
Features & Upgrades
Drivers who want even more out of their vehicle can opt for several add-on packages. The Climate package is designed for harsh winters like those experienced by the Scandinavian design team. It includes heated rear seats, a heated steering wheel, and high-pressure jets that can clean your headlights. The Advanced package consists of some useful features like a powered liftgate, air filter, 360-degree camera, and more. The Protection package has a plastic luggage mat, wheel locks, and more — including a first aid kit.
Volvo S90 R-Design
Overview & Pricing
The R-Design trim of the 2022 Volvo S90 is truly spectacular. It offers further refinement to the Volvo S90 luxury sedan and truly embraces the Scandinavian minimalism of Volvo Cars. Like the Inscription trim, it features the Recharge plug-in hybrid powertrain option that can help you and your loved ones save at the pump. You can get behind the wheel of a Volvo S90 R-Design for a $55,995 MSRP.1
Performance
The R-Design version of the Volvo S90 has the same powertrain options found on the Inscription. It can be had with the mild-hybrid B6 configuration or as the plug-in hybrid Recharge model. The B6 offers great fuel economy, but the Recharge powertrain beats it. The plug-in hybrid offers an EPA-estimated 66 MPGe (combined).3 This awe-inspiring number will help you stretch the monthly budget as you drive near Washington, D.C.
Interior & Tech
The R-Design has a number of trim-exclusive features. It trades out the 10-spoke wheels of the Inscription trim for its own five-spoke version and has glossy black mirror covers and high-gloss black window trim. The cabin is outfitted in Metal Mesh aluminum interior accents, and the tailored sports leather gear shift and steering wheel enhance the quality of the interior.
The 2022 Volvo S90 R-Design also features a keyless entry system with illuminated door handles. When you use your remote control to unlock the car, the handles will glow invitingly, which is particularly comforting at night. Your passengers will all be amazed by the refined elegance of your luxury vehicle when they see this after a night out on the town.
Features & Upgrades
There are eight exterior colors to choose from when you design your 2022 Volvo S90. These are:
Black Stone
Bright Silver
Onyx Black
Denim Blue
Birch Light
Thunder Grey
Platinum Grey
Crystal White
None of these colors are ridiculously bright and attention-grabbing, a choice that aligns with the brand's commitment to refined excellence. You will, however, look absolutely dashing behind the wheel of a Volvo S90 R-Design.
In addition to the three add-on packages listed above, the R-Design can be equipped with Four-C adaptive air suspension. This incredible feature will automatically adjust your suspension in response to road conditions, even if you have loaded the vehicle down with passengers and luggage. You won't have to worry about riding too low in this vehicle.
FAQ
There are several differences between these two trims. The Momentum trim does not offer the Recharge powertrain, for one thing. The R-Design also has a more luxurious interior, as exemplified by its tailored leather steering wheel and aluminum interior accents. These differences are reflected in their respective prices. You can begin driving a Volvo S90 Momentum for a starting $52,895 MSRP1 while the R-Design has a starting MSRP of $55,995.1
The answer to this question will depend on your circumstances. Many drivers prefer to build equity in a vehicle over time by financing their outright purchase of the car. Plenty of other folks, however, will like our leasing arrangements. You'll get to drive a brand-new fuel-efficient car for a lower monthly payment and will then return the vehicle to us. This is a low commitment and an excellent option for people who frequently move. We have both leasing and financing specials for the 2022 Volvo S90.
DARCARS Volvo Cars is in Rockville, MD. Rockville is on the red line, which is how you know our dealership is a quick drive from D.C. You'll be able to take a half-hour cruise from most places in the D.C. area to make it to our dealership. We look forward to welcoming you to our premises with a smile.
Start Driving a New 2022 Volvo S90 Near Washington, D.C.
The new 2022 Volvo S90 for sale is a refined vehicle that offers incredible comfort, decadent luxury, and jaw-dropping performance. Every version of the car is also well-equipped to help you avoid frequent stops at the gas stations near Washington, D.C. The numerous safety features of this luxury sedan will help you navigate the chaos of the Beltway and provide a parking assistance feature that will see you comfortably handle tight park jobs.
DARCARS Volvo Cars in Rockville, MD, is your premier destination for your automotive needs. We have a friendly team that is committed to offering financing on any of our new or used vehicles. We're a short drive from anywhere in the DMV — come test drive the 2022 Volvo S90 today.
---
Leave A Review Of Your New Volvo S90
"In 2012 we bought a Volvo S80 from Charles W. Grant, and we had such a good experience that we returned to him to buy an S90 Momentum. Mr. Grant was very attentive to our questions to locate the S90 with all the features that we wanted. He immediately honored a savings certificate that my credit union had issued (for a different dealer), gave us excellent trade value from our 2004 Volvo, and a loyalty discount for our second DARCARS purchase." 5 stars, review by Rodolfo Perez, 6/12/17
---
Leave A Review
---
1Prices shown are Manufacturer's Suggested Retail Price (MSRP), Base Price or Starting At price and excludes destination fees, taxes, title, license, and registration and/or electronic filing fees, dealer fees.
2For more information, please visit the official US government source for all fuel economy at www.fueleconomy.gov
3This is a hybrid plug in vehicle. Since electricity is not measured in gallons, a conversion factor is used to translate the fuel economy into miles per gallon of gasoline equivalent (MPGe). Use for comparison purposes only. Your MPGe will vary for many reasons, including but not limited to, driving conditions, how and where you drive, how you maintain your vehicle battery-package/condition, and other factors. For more information, including information on MPGe, see www.fueleconomy.gov