2023 Volvo S60 For Sale In Rockville, MD

First impressions are key, and from the moment your eyes land on a new Volvo S60 for sale, it'll be an impression unlike any other sedan out there. This sleek vehicle is a winner, boasting a comprehensive suite of safety features and sporty fun on the road. Take the wheel, and you'll discover spirited yet efficient performance that makes every drive a smile-inducing experience.
Cutting-edge to the core, luxurious fun is only the beginning with the Volvo S60. If you're eager to discover it all in person, give us a call and stop by DARCARS Volvo Cars for a test drive. But first, read on, and we'll take you through all that's great about this dynamic new Volvo car, discussing the trims available for you to choose from and answering some common questions about the Volvo S60.
View S60 Inventory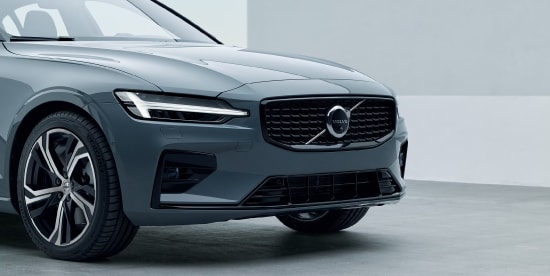 What's New for the 2023 Volvo S60?
For the 2023 model year, Volvo Cars overhauled the available trims for every vehicle in its lineup. The Momentum, Inscription, and R-Design options have been left behind. Instead, drivers can choose from Core, Plus, and Ultimate versions of the bold new Volvo S60 for sale in Rockville, MD. These trims offer incredible value and a wide range of luxury features that will keep you and your loved ones comfortable. The new Volvo S60 also enjoys built-in Google technology that can sync to your cell phone and smart devices, bringing you into a new era of connectivity. The redesigned wheels and fascia round out the new version of this sleek sedan.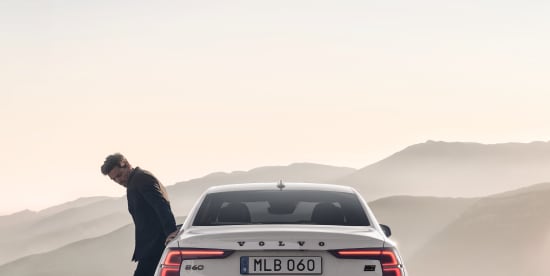 Standout Sedan Safety Comes Standard
Market-leading safety is nothing new for Volvo Cars. Our 2023 Volvo S60 for sale boasts a cutting-edge suite of safety features and driver assists. That's not even mentioning the innovative engineering that tries to protect occupants in worst-case scenarios. You can hit the road with confidence. The features and assists you'll find can include: a Blind-Spot Information System (BLIS™) and Cross-Traffic Alert, a Lane Keeping Aid, Oncoming Lane Mitigation, Road Sign Information, adaptive cruise control, parking sensors in the front and rear, and a 360-degree camera system.
---
Explore the 2023 Volvo S60 Trims
Every new Volvo S60 for sale offers seating for five and 11.6 cubic feet of cargo capacity. They are made with a wide range of premium materials and features that enhance your drive. You'll also get to make your new sedan truly yours. You have three fabulous trims to choose from, taking things in one of several directions as you see fit. You'll find similar levels of customization in everything from this sedan to the flagship Volvo XC90 for sale. So embrace your wild side, or relax with peak sophistication. Below you'll find the current trim choices and what they offer you.
---
2023 Volvo S60 Core

Meet the Core Trim
"Base model" takes on a new meaning with a 2023 Volvo S60. The Core trim showcases how refined Scandinavian luxury can be, offering more standard performance, technology, features, comfort, and premium materials than you can count. Taking the wheel will be an experience you'll look forward to every day. Merely looking at your driveway will cause a feeling much the same, as stylish accents and body lines help create a sleek exterior like few others. Your new Volvo S60 Core will impress your neighbors, family, and passengers whenever they experience it.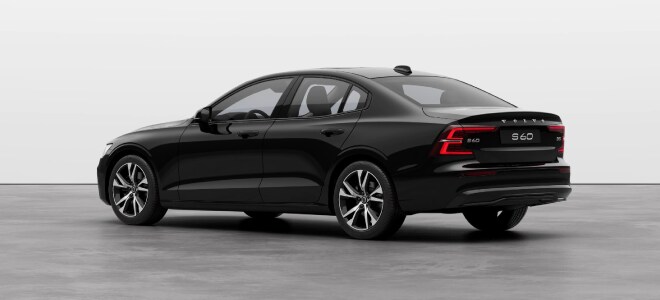 Powerful Performance Potential and a Useful Towing Capacity
The Volvo S60 has several powertrain options available. The standard one for the 2023 Volvo S60 Core is the B5 configuration. It pairs a turbocharged 2.0-liter four-cylinder engine with a 48-volt mild-hybrid electrical system for 247 horsepower and 258 pound-feet of torque. It comes standard with front-wheel drive. This powerful setup can send you from 0 to 60 in just 6.4 seconds. With a maximum towing capacity of 2,000 pounds,1 you can bring a small boat or pop-up camper along for a family getaway near Washington, D.C.
An Interior Rich with Technology
Premium decor kicks things off in the Volvo S60 cabin with Iron Ore aluminum interior accents, a tailored hand-stitched steering wheel and gear selector, a panoramic power moonroof, and exclusive City Weave textile or leatherette upholstery greeting you whenever you get into the vehicle. Technology takes the spotlight with a standard 12-inch instrument panel keeping you connected and in control. A user-friendly touch-screen infotainment system with the connectivity you crave and a high-performance audio system make commutes come alive with your tunes.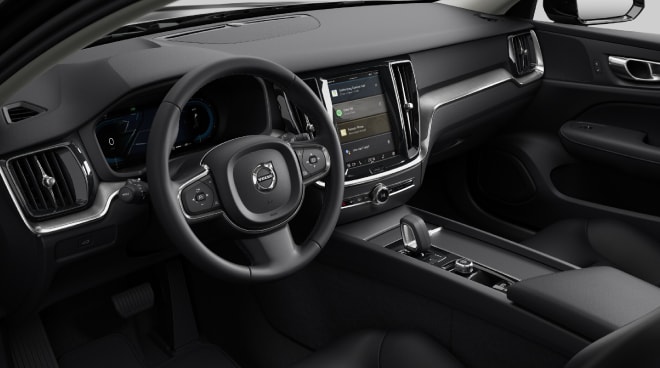 Compelling Features and Available Upgrades
Included with Volvo S60 Core are many more impressive features like a rear parking sensor, a two-zone climate control system for perfectly balanced comfort, and adaptive power steering to dial-in your driving preferences. You can make this car truly yours by picking your favorite paint job. The choices are Black Stone, Denim Blue, Thunder Grey, Fusion Red, Platinum Grey, Silver Dawn, Bright Dusk, and Crystal White. Drivers can further upgrade their Volvo S60 for sale with packages like a cold-weather kit, practical accessories like a ski or bike holder, and more.
2023 Volvo S60 Plus

A Compelling Step Up
Stepping up to the Plus trim on a 2023 Volvo S60 is a great option for drivers near Washington, D.C. The features, luxury materials, cutting-edge tech, and price point are all compelling reasons to consider a 2023 Volvo S60 Plus. It adds several driver assistance features that will improve your experience on the road. The cabin is also significantly upgraded, with new materials like real wood interior accents added to this refined Volvo sedan thanks to the Plus trim.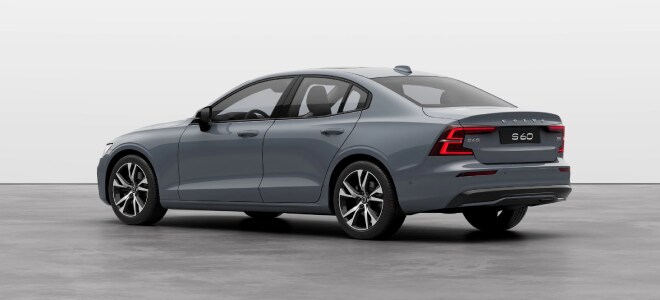 Comfort and Agility Without Compromise
The 2023 Volvo S60 Plus comes standard with the same B5 powertrain we described above. Drivers can, however, upgrade to the all-wheel drive version of this configuration. It keeps the same engine and mild-hybrid system but adds more control. It also improves the vehicle's 0 to 60 time: a Volvo S60 Plus B5 with all-wheel drive can make the leap in just 6.2 seconds. This elegant sedan handles like a dream, riding on refined suspension that makes the car thrilling to drive in Rockville, MD.
Refined Luxury and Cutting-Edge Technology
The cabin of our Volvo S60 for sale is full of premium materials and dynamic technology. You and your passengers will appreciate the elegant limewood interior accents, standard leather upholstery, and ambient interior lighting that helps make your car feel like a home away from home. The Plus trim also includes several great technologies, including adaptive cruise control and a 360-degree camera system. These are not a substitute for safe driving but can help you protect yourself and your riders on the road.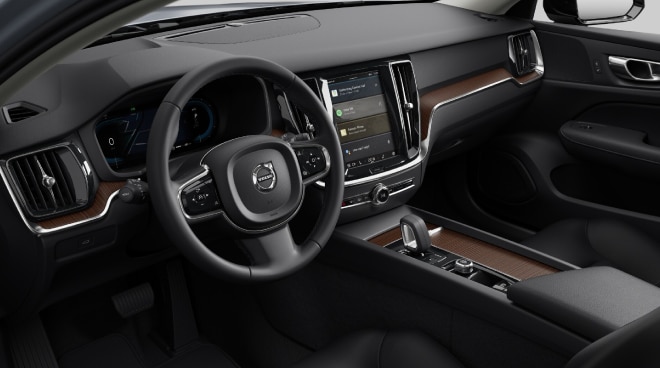 Bold Features and Elegant Upgrades
One of the most compelling features of the Plus trim is the Pilot Assist technology. This program monitors the flow of traffic around you and can help you manage stop-and-go traffic. If you find yourself in a jam, staring off into the distance, the vehicle will alert you when vehicles begin to move again. In the case of an emergency, the car can even stop itself and contact first responders without any driver input. We hope you'll never need this feature, but it's nice to have peace of mind.
2023 Volvo S60 Ultimate

Unleash the Ultimate Sedan
The top-tier version of our Volvo S60 for sale is the Ultimate trim. It takes an already luxurious car and makes it even more compelling with a new array of technology and performance features. You'll be able to use this incredible vehicle as a daily driver or a weekend cruising machine; it's fit for both, thanks to Volvo Cars' emphasis on versatility. Some drivers, however, may prefer a slightly larger car – they'd do well to check out our Volvo S90 for sale.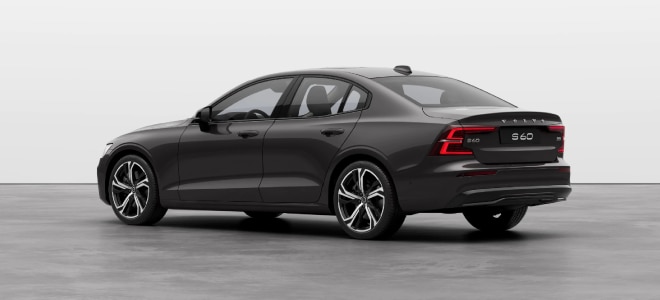 Top-Tier Performance Output
The Volvo S60 Ultimate comes standard with the B5 powertrain; as before, all-wheel drive is an available upgrade. There is another powertrain available for the 2023 Volvo S60, however. It is found on the plug-in hybrid Volvo S60 Recharge model. This vehicle version is available in the Core, Plus, and Ultimate trims. Its powertrain uses a turbocharged and supercharged 2.0-liter four-cylinder and a powerful battery-and-motor system to make 455 horsepower. This fuel-efficient iteration of the Volvo S60 can rocket from 0 to 60 in just 4.3 seconds.
Distinct Style and Spirited Luxury
The Ultimate trim includes several exclusive luxury features. You'll be treated to four-zone climate control, allowing everyone in the vehicle to be supremely comfortable as the premium 14-speaker audio system blankets you with moving music. The air purifier will keep everything fresh in the cabin, while the tailored dashboard with contrast stitching looks absolutely dashing at the front of the vehicle. Sunlight and starlight alike can stream through the beautiful panoramic moonroof. The Volvo S60 Ultimate is luxury incarnate.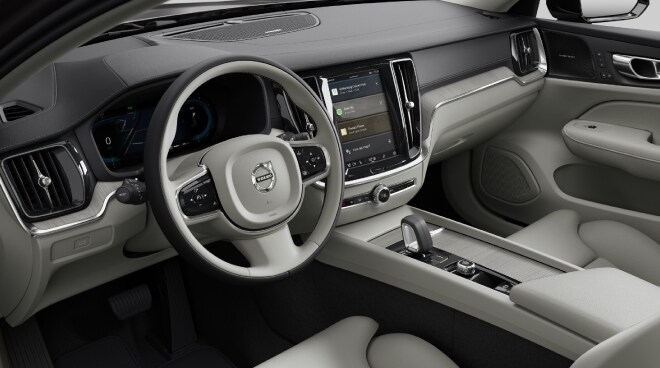 Relish the Features of the Volvo S60 Ultimate
Volvo Cars embraces a sleek aesthetic derived from the company's Scandinavian heritage. In the top-level Volvo S60, this design ethos manifests itself as the Graphical Heads-Up Display. This futuristic technology projects navigation directions and other crucial information onto the bottom of your windshield, keeping you informed and your eyes on the road. When you drive the Volvo S60 Ultimate, it may feel like you're behind a spaceship's wheel. While riding on the car's 19-inch five-spoke wheels, your ride will feel that smooth.
FAQ
The Volvo S60 Core and Plus models both come with the same standard powertrain, the B5 configuration, and have all-wheel drive available. The Plus version, however, does come with a more expansive suite of driver assistance technology. You'll enjoy the 360-degree camera view, adaptive cruise control, and specialized parking assistance technology on the sleek new Volvo S60 Plus.
The answer to this question depends on many factors. Both leasing and financing a 2023 Volvo S60 come with distinct benefits, and there's no objectively correct answer. At DARCARS Volvo Cars, we have deals on both options. This makes driving home a new Volvo S60 a breeze; you can decide whether to buy or lease based on your needs.
Visiting DARCARS Volvo Cars in Rockville, MD, is a journey that won't take long. It's a straightforward 30-minute drive from pretty much anywhere near Washington, D.C. You can save even more time before arriving by applying for financing and valuing your trade-in on our website before stopping by. We look forward to seeing you for your 2023 Volvo S60 test drive.
Satisfy Your Sport Sedan Needs at DARCARS Volvo Cars Near Washington, D.C.
The 2023 Volvo S60 is great on paper and even better when you take the wheel in person. Visit our dealership near Washington, D.C., today to discover the exceptional features, engaging handling, incredible luxury, and efficient performance of a Volvo S60 for yourself. We'll assist you with finding the perfect model for you and yours and set up a test drive. Afterward, we can help you drive this luxury sedan home with our custom lease deals and finance offers. So stop by, and discover this sports sedan marvel.
Leave A Review Of Your Volvo S60
"I purchased a Volvo S60 at DARCARS and had a fantastic buying experience. Sales support is great—shout out to Manny!—and financing was easy and very competitive. My car just picked up today to deliver out of state and can't wait to see it! I can recommend DARCARS to anyone looking for their next vehicle purchase." 5 stars, review by Jeffrey Osburn, 10/28/21
Leave a Review
* Indicates a required field
Discover More Volvo Models For Sale In Rockville, MD:
---
1When properly equipped.