2022 Volvo XC90 Recharge Hybrid

The stunning Volvo XC90 Recharge for sale at DARCARS Volvo Cars is how you and your family will enjoy a true luxury SUV experience well into the future. How so? The Volvo XC90 Recharge hybrid balances everything familiar to you now with everything that's soon to become the new standard in mobility. With that in mind, we've put this page together to help. We'll discuss features, technology, and the ownership experience that you can expect from any of our Volvo XC90 Recharge lease deals.
View XC90 Recharge Inventory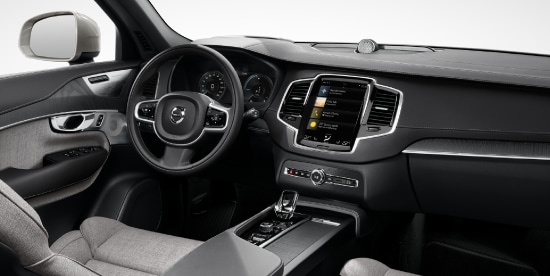 What's New for 2022?
In a word: everything. The 2022 Volvo XC90 Recharge marks the third generation of this beloved family SUV. With electrification on the horizon, these new models will be built on a brand-new sustainable platform that will support mild-hybrid, plug-in hybrid, and fully electrified variants. Beyond that, a brand-new Level-4 autonomous driving feature, known as Highway Pilot will be available. Additionally, a brand-new operating system powered by Google will grace all models. A new digital cluster will work seamlessly with the new infotainment center and allow drivers to feel assisted and supported like never before.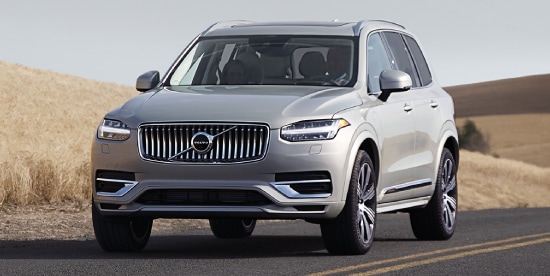 Volvo XC90 Recharge Safety
The word "safety" is pretty much synonymous with the brand Volvo Cars. For nearly 100 years, Volvo Cars has pioneered critical safety features and shared them freely with other vehicle brands. You can count on your new Volvo XC90 Recharge to have adaptive LED headlights, LED brake lights, oncoming collision mitigation, front and rear collision detection, run-off-road protection, autonomous braking, blind-spot monitoring, lane-keep assist, traffic sign recognition, driver alertness monitors, and semi-autonomous driving. It's all standard in every model. We continue to lead the way.
---
Explore Volvo XC90 Recharge Trims
With this flagship SUV from Volvo Cars, you can (and should) expect luxury at every level. The Volvo XC90 Recharge Inscription Expression is everything you need to experience a true luxury SUV, including leather seats, a panoramic glass roof, heated seats, keyless entry, a power liftgate, and more. The Volvo XC90 Recharge R-Design reimagines luxury with sport-motoring designs like twin Nubuck/Nappa leather seating, dynamic exterior trim, and exclusive wheel designs. The Volvo XC90 Recharge Inscription is the ultimate indulgence behind the wheel with premium perforated leather, front-seat ventilation, and Harman Kardon® or Bowers & Wilkins® audio. Did we mention there is an onboard refrigerator also available?
---
Volvo XC90 Recharge Hybrid R-Design

Overview & Pricing
The Volvo XC90 Recharge Hybrid R-Design is for those that embrace a no-holds-barred attitude toward life. Dynamic and compelling, this model showcases her performance attributes through enhanced design and luxury at every contact surface. You can jump into this trim level for a starting price of $70,595 MSRP.1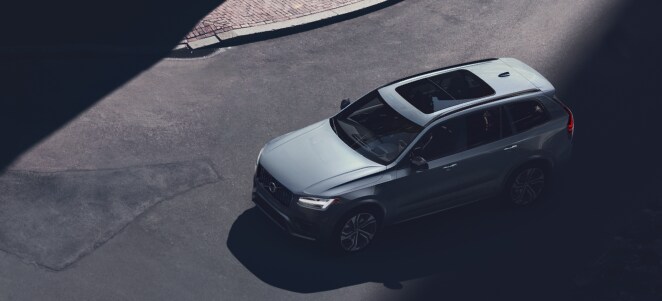 Impressive Performance
What sport model would be complete without impressive performance? How about a twin-charged, electronically boosted hybrid powertrain that puts 400 horsepower and eAWD at your command. Selectable drive modes are also ready for you to adjust your performance if the weather (or your changing mood) requires. There's also a mode that you can customize for the most precise driving experience. Embrace the road in total style and put all that eco-power to work if you have to. Your Volvo XC90 Recharge Hybrid R-Design can tow up to 5000 pounds of cargo when properly equipped. Additionally, you might love the available air suspension system which keeps your cabin experience comfortable and composed under all circumstances.
Enhanced Interior & Advanced Technology
On the inside, you'll have sport-inspired seats with Nubuck/Nappa leather stitch patterns. This seat style harkens back to an earlier period of European Rallycross and will make every journey feel like an opportunity to wear your favorite pair of leather-trimmed aviator goggles (your kids can wear theirs, too). Voice command and smartphone connectivity make the use of compatible apps an easy task. Enhanced touch-screen capabilities and a configurable driver's display center keep things feeling futuristic and clean.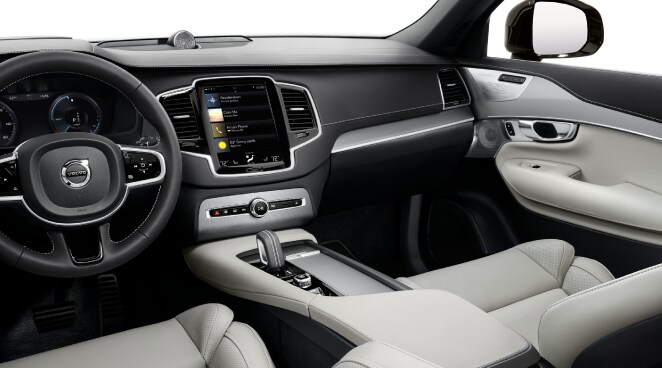 Luxe Features & Upgraded Accessories
Features and upgrades are plentiful, and with sporting pursuits being the order of the day, you might want to configure your Volvo XC90 Recharge R-Design with a mid-row pass-through to make access to the rear row that much easier. Mid-row passengers will love the captain's seating configuration. You might also love exploring our lineup of lifestyle accessories, including bike racks, ski and snow racks, pet carrying solutions, and all-weather protection kits. Don't forget about available glove-box refrigeration and our personal favorite, a gear-shift lever made out of pure crystal.
Volvo XC90 Recharge Hybrid Inscription

Overview & Pricing
The Volvo XC90 Recharge Hybrid Inscription celebrates everything that epitomizes class and distinction from the Volvo Cars brand. This trim includes open-pore wood inlays, subtle chrome accents, and an impressive front grill that is in sync with the design of a hand-crafted diver's watch. Ready for any engagement, your Volvo XC90 Recharge Inscription has a starting price of $64,895. 00 MSRP.1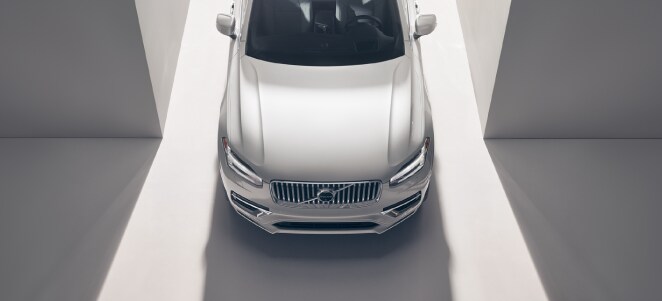 Next-level Performance
Sprint onto the motorways with the confidence of eAWD motivated by the velveteen eight-speed automatic Geartronic™ transmission. With an EPA-estimated cruising range of up to 520 miles2, you won't need to stop to refuel anytime soon. And why would you want to? Your Volvo XC90 Recharge Inscription is your sanctuary on wheels. Enhance the comfort with available air suspension. Insulate yourself from contact with the road for a driving experience like no other. Lower your vehicle to make entry and exit easier. Raise your vehicle for maximum clearance in deep water or foul weather. With comfort like this, drives of extended durations are strongly recommended.
Interior Luxury & Intelligent Tech
They say it's what's on the inside that matters, and the Volvo XC90 Recharge Inscription owns that statement. Your cabin is sealed in ambient acoustic filtration materials. Your seats are wrapped in the finest perforated and ventilated leather. Adorn yours with a genuine crystal gear selector made by Orrefors Crystal and opt-in for configurable massage seating. Once you've been in a vehicle with massage seats, nothing else compares. Wireless charging is standard, as is a more intelligent infotainment system powered by Google. You'll always have an assistant with you on board, even when your personal assistant can't make it. Should you ever find yourself alone in your Volvo XC90 Recharge Hybrid, you can take a moment to enjoy world-class concert audio thanks to an upgraded Bowers & Wilkins® Audio system. The world melts away behind acoustic shielding glass and panels. All that remains is a moment of peace and those thoughts you've long forgotten.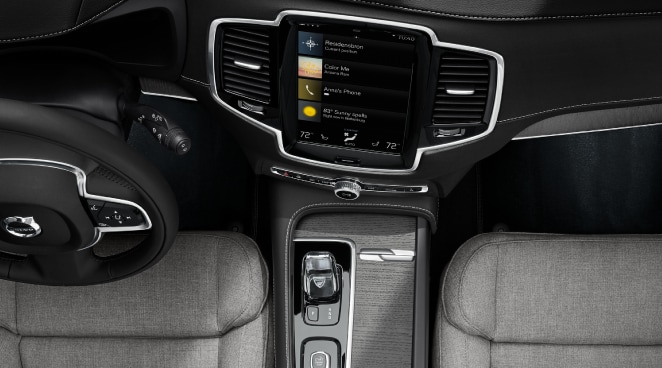 Seamless Features & Sleek Upgrades
The only limit to options and accessories is your imagination. A graphical head-up display is enough to wow any tech-thirsty driver. Get all of the data you need displayed straight ahead. You will never have to look away from the road as navigation, incoming calls, media information, and more are all projected where you can easily see them. Looking for something else to make life on the road a bit easier? Ask your vehicle specialist about the onboard glove box refrigerator system.
---
Frequently Asked Questions
The Volvo XC90 Recharge comes with standard seating for seven passengers. The seven-seat configuration also allows for optional integrated booster seats, which add convenience and safety for any growing family. The six-seat configuration offers convenient access to the rear row, with enhanced comfort for mid-row passengers thanks to the captain's seating.
Depending on the type of charger used, it can take you anywhere from three to six hours to recharge the battery. Level-2 charging, the most common type of public charging station, will see your Volvo XC90 Recharge topped up in less than three hours.
There's about a 30-minute drive between D.C. and DARCARS Volvo Cars in Rockville, MD. Fortunately, with features like Volvo Valet, you won't have to make the drive at all. Use the Volvo On Call app to schedule service pickup and delivery at your convenience. Your concierge will also distribute and collect your courtesy vehicle. For new vehicle purchases and leasing, ask about our home delivery.
An Electric Future Near Washington, D.C.
If you live anywhere in or near the D.C. metropolitan area, you know that times are changing. But did you know that nearly 250 free public charging stations are available for use? This means you can charge for free while at work, at play, or on the go. You'll enjoy the same benefits with the Volvo XC60 Recharge, including bespoke design packages specific to the model.
If you are still exploring the electrified Volvo SUV lineup, you might be interested in the Volvo XC40 Recharge electric SUV. Currently the only fully electrified vehicle from Volvo Cars, this SUV offers an impressive range and can fit into the smallest of urban parking spots. This model paves the way for the forthcoming Volvo C40 Recharge EV — a compact crossover destined to make waves — just as the Volvo XC40 Recharge has. Be on the lookout for Fjord Blue, a new color that commemorates the launch of this new model.
By this point, you might be asking yourself, "Why the push toward electrification?" The answer is simple. Volvo Cars will continue to do what it has always done. And that's to protect the most precious resource of all: life itself. Whether it's through continued innovation with safety and technology or the implementation of electrified powertrains, the goal of Volvo Cars is to ensure that the tomorrow we're all counting on actually arrives. Aiding in the transition to complete electrification are mild-hybrid vehicles and plug-in hybrid vehicles (such as the Volvo XC90 Recharge). These electrified models can either provide emission-free mobility or reduced dependency on fossil fuels through innovative technologies. In the very near future, all Volvo Cars models will be fully electrified with the goal of being carbon-neutral as a company by 2040.
We realize that for some, a total shift to electrification is the way to go. For others, it's about learning the ropes and not necessarily creating a shock to their daily routine. Volvo Cars embraces this need and is proud to offer a lineup of vehicles that make this inevitable evolution as easy to experience as possible. Your DARCARS vehicle specialists can talk to you more about charging, technology, and upgrades to your home that obviate dated notions of range anxiety.
Discover the world of electrified vehicles waiting for you at DARCARS Volvo Cars and make the most of your future now.
---
1Prices shown are Manufacturer's Suggested Retail Price (MSRP), Base Price or Starting At price and excludes destination fees, taxes, title, license, and registration and/or electronic filing fees, dealer fees. Images shown are for informational purposes only. They may not necessarily represent the configurable options selected or available on the vehicle, and they do not show true renderings of colors and/or upholstery. We cannot be responsible for typographical or other errors, including data transmission, display, or software errors, that may appear on the site.
2Range is an EPA estimate only. Yor results will vary.
Reviews On The Volvo XC90 Recharge
"Manny at DARCARS Volvo in Rockville was great! Friendly, answered all our questions, and didn't try to upsell anything. Worked with us to find the best XC90 to fit our family's needs and wants. Great in-stock selection, found a great car that was maybe a little more than we needed (but wanted!), but Manny and the team at DARCARS Volvo worked with us to come to a great price, and even worked with us to match a very generous trade offer from another dealer on our trade! They went out of their way to make the trade and whole transaction as easy as possible for my wife and I. Very pleased with the whole experience, and love the car! Thanks Manny!" 5 stars, review by Nick Hamlin, 9/16/2021
Leave A Review