2023 Volvo XC60 Recharge Hybrid

A 2023 Volvo XC60 Recharge for sale changes the very definition of eco-conscious luxury. With one, you can have it all. The sleek Scandinavian design will turn your driveway into an art gallery. Top-notch craftsmanship will surround you with luxurious, high-quality surfaces and materials. A commitment to cutting-edge innovation will make your ride a connected one, and SUV practicality will accommodate all your needs.
To top off an attractive list, fuel-sipping efficiency and thrilling performance go hand-in-hand with every Volvo XC60 Recharge. Take one for a spin today and experience it all at DARCARS Volvo Cars. When you do, inquire about our current Volvo XC60 Recharge lease deals to find even more benefits backing one. Read on to discover all that's attractive about this dream-worthy hybrid SUV.
View XC60 Recharge Inventory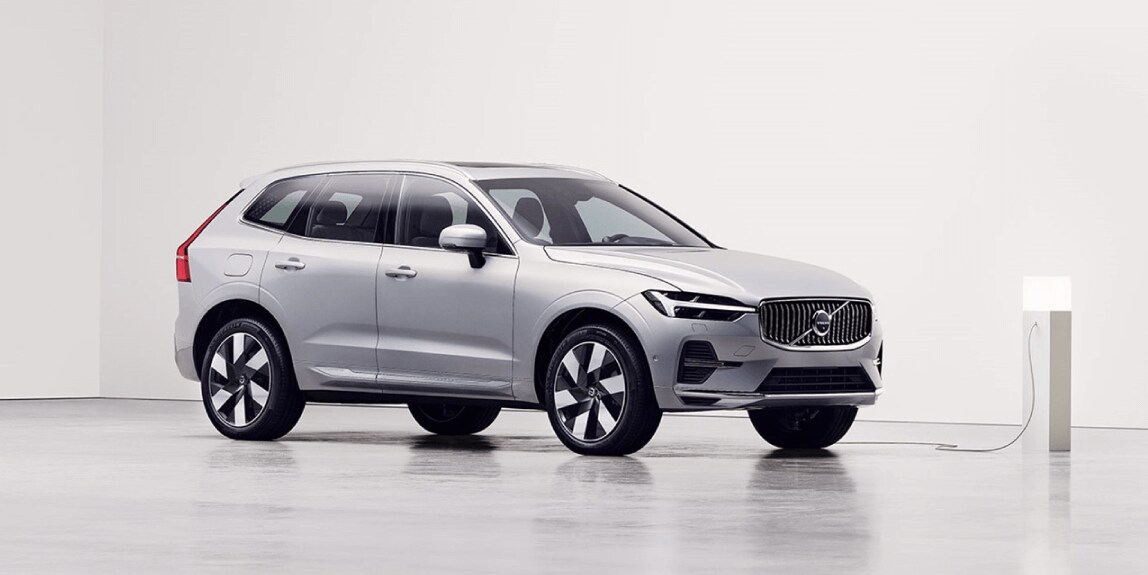 What's New for 2023?
When you look to the future, you'll find a focus on sustainability, sleek style, and cutting-edge technology. That's the driving force behind the 2023 Volvo XC60 Recharge. To drive it further for 2023, the Volvo XC60 Recharge receives a new trim-level assortment, makes the previously-optional Extended Range powertrain a standard benefit, and adds subtle styling changes all around, like a sleeker front bumper and grille, new wheel designs, and new color options.
On the tech side, advanced Google built-in services lead the way. You'll find hands-free voice-assistant integration, countless personalization options, and all your favorite apps for a seamlessly connected ride. It's smarter, more sustainable, and more stylish than ever before. Plus, with new personalization options, it'll truly be your ride.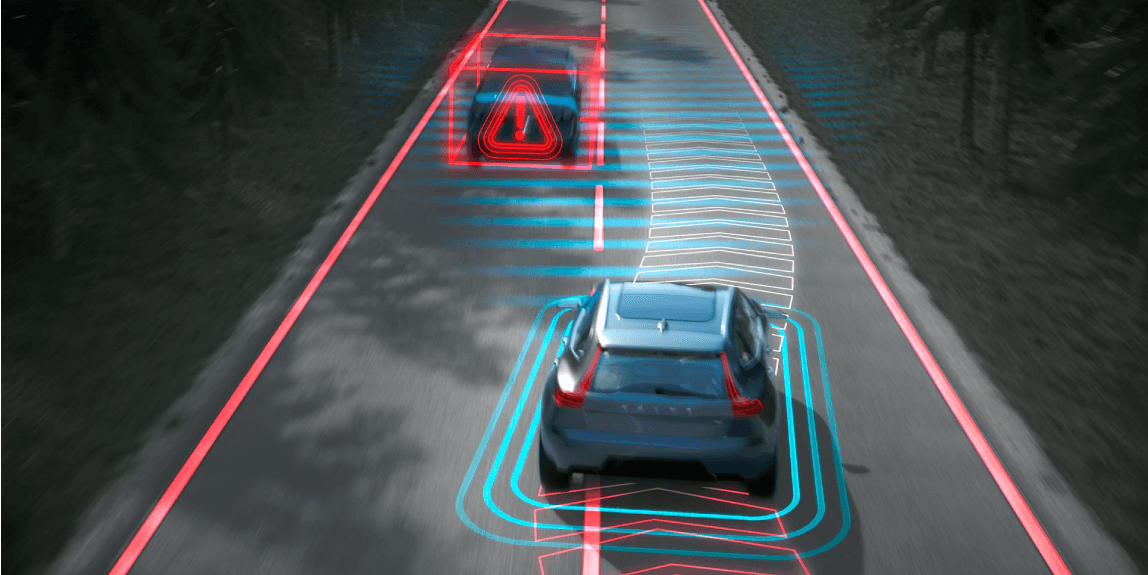 Protects the Planet and Your Family
The hybrid efficiency of a Volvo XC60 Recharge helps protect the environment. Its safety-oriented engineering and technology help protect you and your family. An innovative structure under the skin and built-in features such as a whiplash injury protection system mitigate harm in worst-case scenarios. Predicting and preventing that harm from occurring in the first place is a specialty of Volvo SUVs from the Volvo XC90 Recharge to the Volvo XC60 Recharge, though.
Feel confidence from behind the wheel of your Volvo XC60 Recharge with the following standard and available features: Adaptive Cruise Control, semi-autonomous Volvo Pilot Assist capabilities, a 360-degree camera system, a blind-spot monitor with a cross-traffic alert, parking assistance, oncoming collision mitigation, lane-keeping technology with steering assistance, road sign information, a slippery road indicator, and more.
---
Explore the Selection of Volvo XC60 Recharge Trims
Your trim options for a 2023 Volvo XC60 Recharge come in four attractive forms. A source of pride for Volvo Cars is letting you make your new vehicle unique to you. The Volvo XC60 Recharge is a prime example of this. Choose your desired level of sportiness and luxury. Then, make things even more to your liking with many options, accessories, and available features.
No matter how you have it, the Volvo XC60 Recharge will offer seating for five and a serious level of performance from the T8 eAWD powertrain. Throughout the available trims, an outstanding range of standard features are yours to discover, and so is a competitive suite of advanced technology. So, here are the trims you'll find for a Volvo XC60 Recharge at our dealership near Washington, D.C.
---
2023 Volvo XC60 Recharge Core

Overview
Changing the very notion of what a base-level trim can be, the Volvo XC60 Recharge Core showcases Scandinavian excellence. It does this with more standard features, performance, and technology than you could imagine, along with high-end materials and style inside and out.
Choose between thoroughly modern and stylish paint options, outfit it with premium wheels, and select the accessories that match your lifestyle. Even opting for just the standard equipment bestows a well-equipped, head-turning, luxurious ride.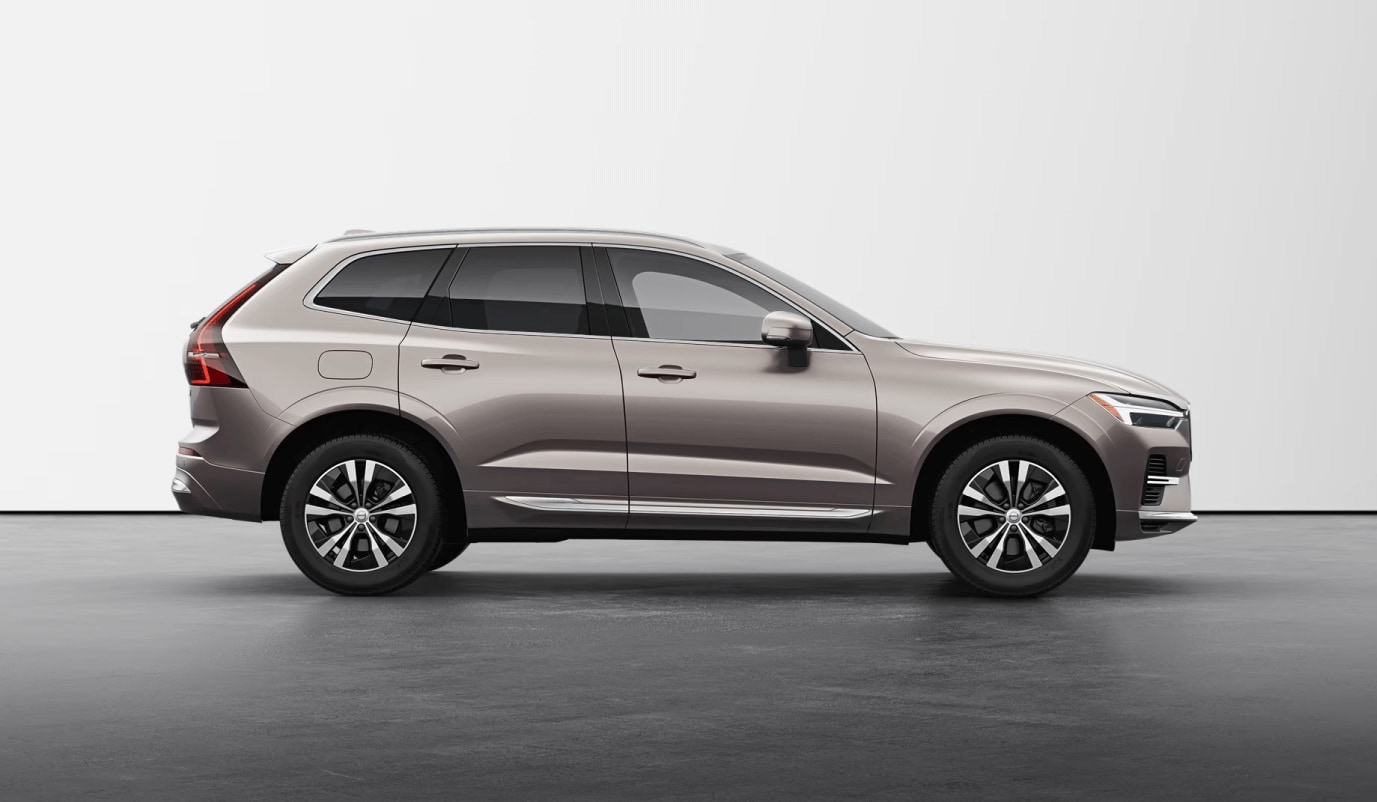 As Thrilling as It Is Efficient
Eco-friendly thrills don't get much better than this. They don't get much smoother either, as with every 2023 Volvo XC60 Recharge for sale, an eight-speed Geartronic™ automatic transmission lets the T8 eAWD powertrain unleash all that it's capable of with a buttery and lightning-quick response. What's it capable of? Using a turbocharged four-cylinder engine and an electric drive system, you'll find 455 horsepower sent through an eAWD layout and experience a 0-60 mph time of 4.5 seconds.
A Dynamic chassis underpins it all, adding on precise and agile handling so that the fun isn't limited to straight-line acceleration. The fun can go on all day, too, as with hybrid efficiency backing it all, you'll get an EPA-estimated 63 MPGe1 and a manufacturer-estimated pure-electric driving range of up to 35 miles.2
The Heart of Luxury & Tech
After you've had your fill of thrills, relax in your personal vault of premium materials. A Core trim Volvo XC60 Recharge begins the show with modern Iron Ore aluminum decor, sophisticated premium City Weave textile upholstery, a steering wheel tailored with hand-stitched charcoal upholstery, and a sculpted hand-stitched gear selector. For all the beauty surrounding you, there's even more tech to discover.
It all starts with cutting-edge Google built-in services. Incredibly precise navigation awaits, and so does a high-performance audio system, along with a 9-inch touch-screen infotainment system offering Bluetooth®, Apple CarPlay®, and Android Auto™ connectivity. A standard 12-inch digital gauge cluster intuitively provides the driving data you need, and the Volvo Cars app can prepare your vehicle for the day with cabin preconditioning.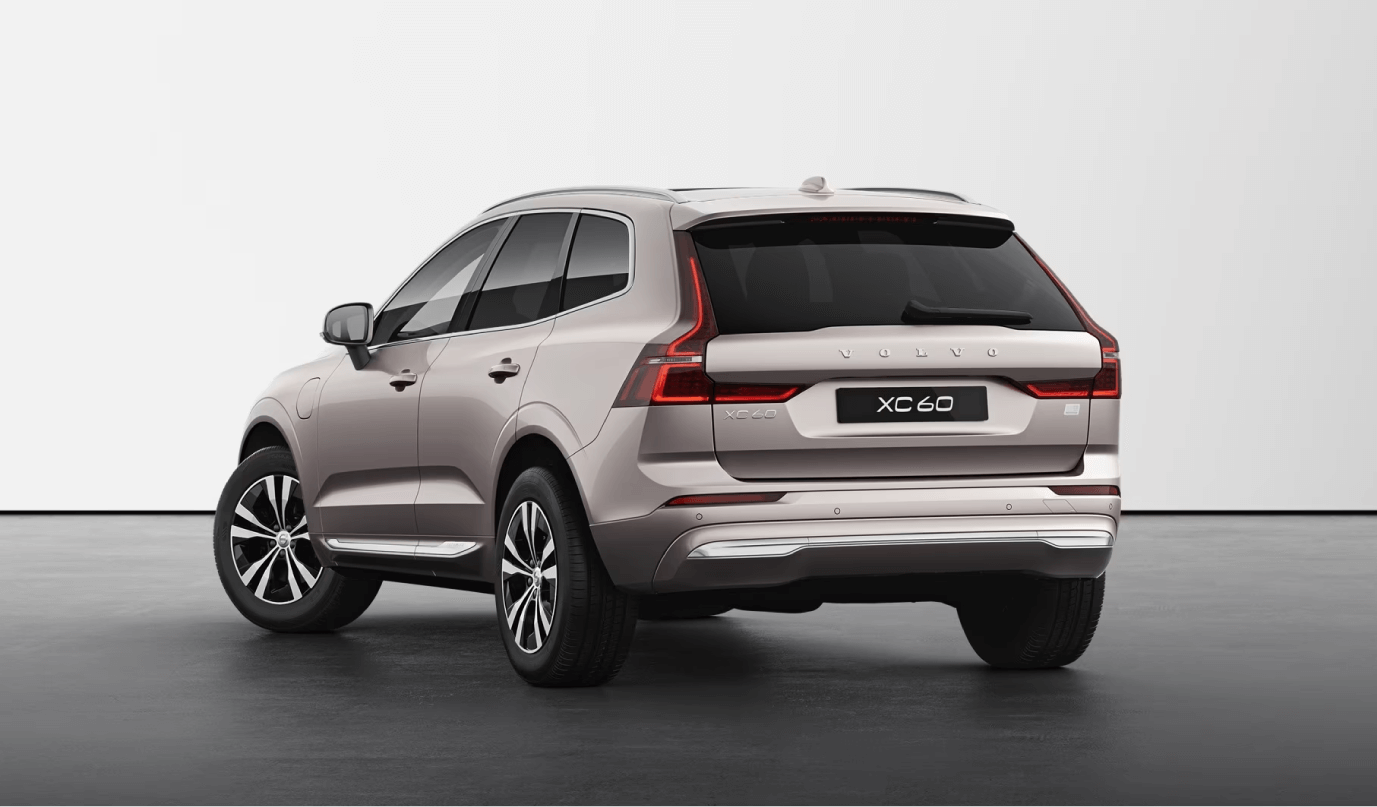 Luxurious Features, Attractive Accessories
A Core trim Volvo XC60 Recharge for sale gets better still. Standard heated front seats keep you comfortable, a two-zone automatic climate control system maintains ideal temperatures for everyone, and the CleanZone air filter keeps the interior fresh. Enjoy views of the sky above with a standard panoramic moonroof, and customize the drive with adjustable power steering characteristics.
Upgrade this SUV to your liking. Accessories like running boards and packages like a cold-weather optimization kit can all be yours. A tech package takes the advanced nature further with Adaptive Cruise Control, a Graphical Head-Up Display, and more. Other accessories like a power tailgate, bike carrier, and mud flaps come together to make your Volvo XC60 Recharge entirely yours.
2023 Volvo XC60 Recharge Plus

Overview
Step up to the Plus trim on a 2023 Volvo XC60 Recharge Hybrid, and a host of upgrades for style, luxury, and technology await. On the outside, distinct design elements make a huge impression, while equally impressive style lines the interior. Enjoy new levels of comfort with standard leather upholstery, enhanced confidence with added safety features, and a larger exterior impression with enhanced accents like 19-inch wheels.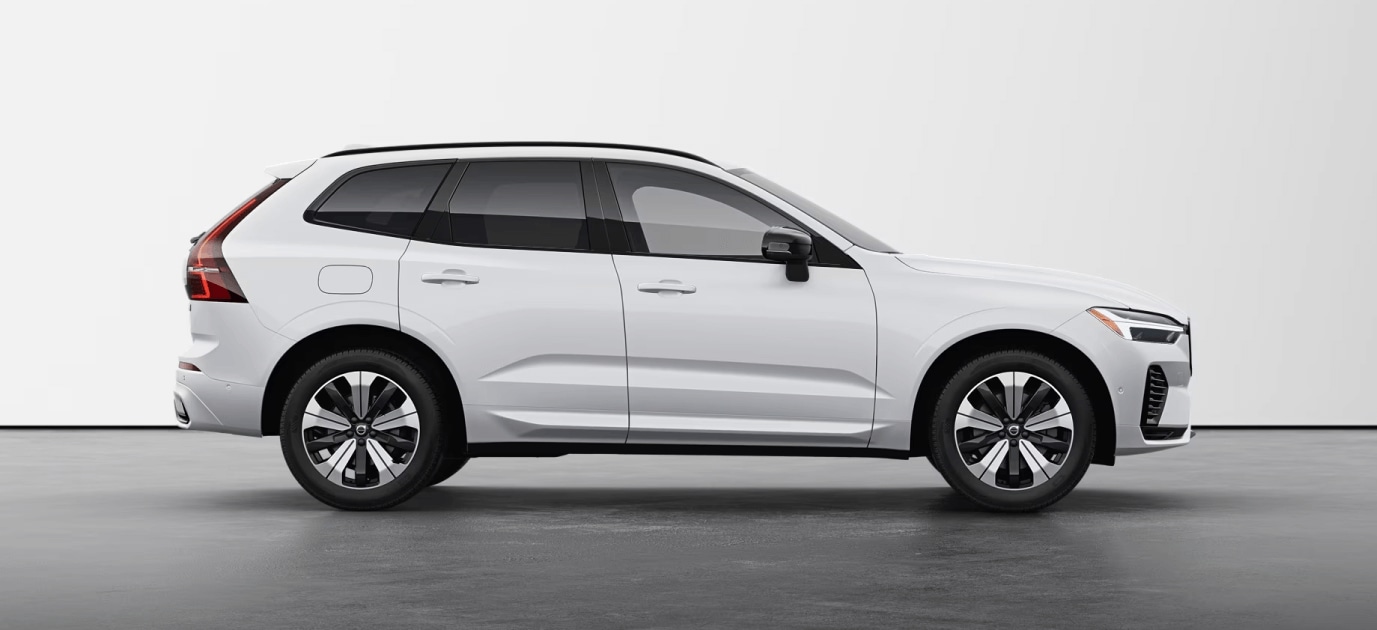 The Performance Is Just One "Plus"
Sports car levels of performance come standard. That's because the same engaging and agile Dynamic chassis underpins the 2023 Volvo XC60 Recharge Plus. It's also because that same T8 eAWD powertrain comes standard, giving you 455 horsepower and 523 pound-feet of torque. You'll also find the eight-speed Geartronic™ automatic transmission and an EPA-estimated 63 MPGe.1
The Plus trim distinguishes itself with several touches. A distinct selection of sporty 19-inch aluminum alloy wheels, stylish sporty flair like a high-gloss grille, and more await.
More Luxury, More Tech
Attractive luxury gets even better inside. The 2023 Volvo XC60 Recharge Plus interior sees a new selection of premium materials, including Linear Limewood decor, plush leather upholstery, a tailored dashboard, a hand-stitched steering wheel, a hand-stitched gear selector, and sport pedals. High-level illumination also gives the interior a beautiful ambiance with mood lighting and LED lights all around.
In terms of tech, you'll find the same advanced Google built-in services and infotainment as the Core trim. What can't be found on the Core trim is a standard 360-degree camera system, power-folding rear headrests, and more — all included on the Plus trim.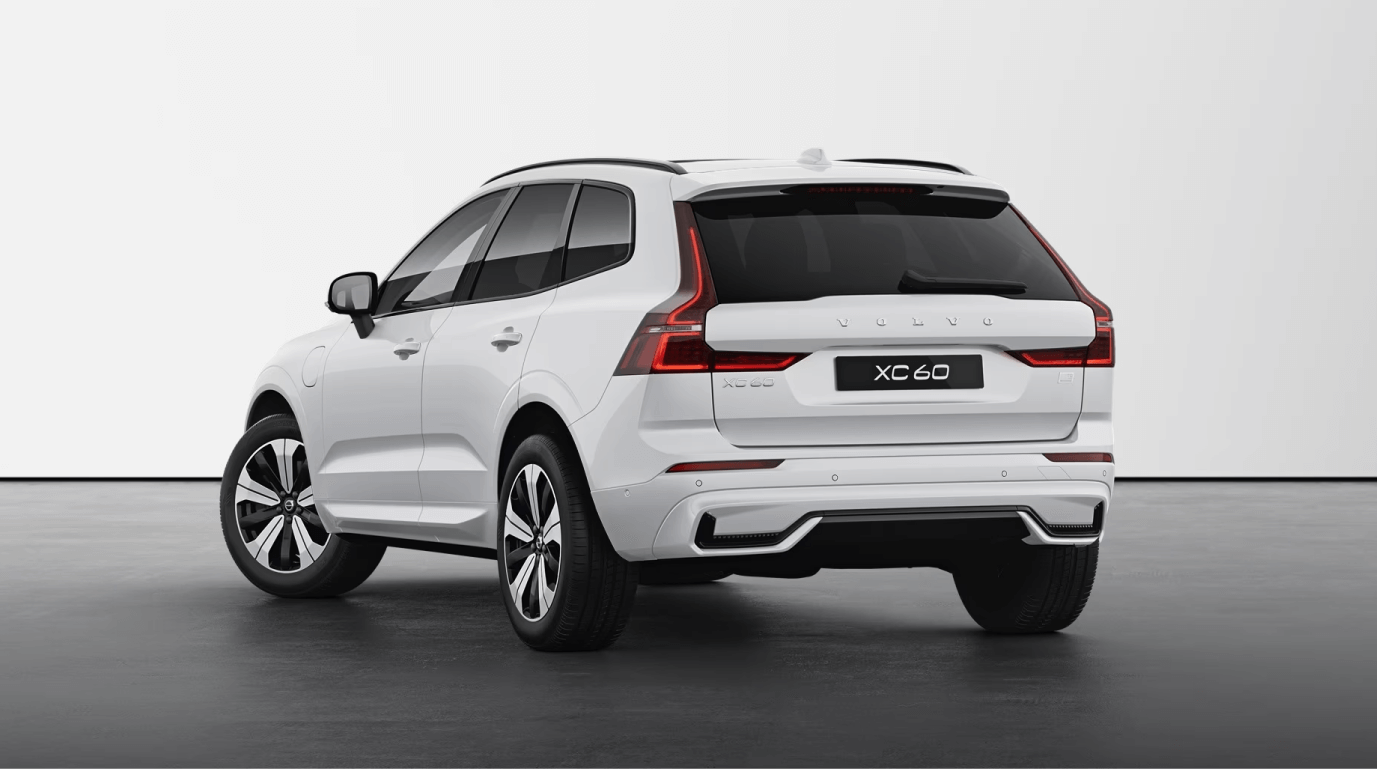 More Features, More Upgrades
The additional features start with Adaptive Cruise Control and the Volvo Pilot Assist. These exceptional safety features make highway driving a breeze. Adaptive Cruise Control will keep your vehicle appropriately distanced from others, while the Volvo Pilot Assist will keep your Volvo XC60 Recharge centered in your lane. This makes the Volvo XC60 Recharge Plus a more relaxing and intuitive ride.
Find accessories and upgrades to tailor this Volvo SUV to your liking. Included in your choices, you can get the Climate Pro package to conquer cold weather, an exclusive folding trailer hitch to maintain this SUV's sleek looks after you're done towing, integrated second-row booster cushions to keep your kids safe and in the lap of luxury, and much more.
2023 Volvo XC60 Recharge Ultimate

Overview
The "Ultimate" name isn't just for show. This Volvo XC60 Recharge for sale offers even more upgrades on top of what the Plus trim offers. From pure comfort without compromise to connected technology and enhanced audio capabilities that'll make every ride memorable, this second-highest trim level dishes out the ultimate example of hybrid SUV luxury and safety.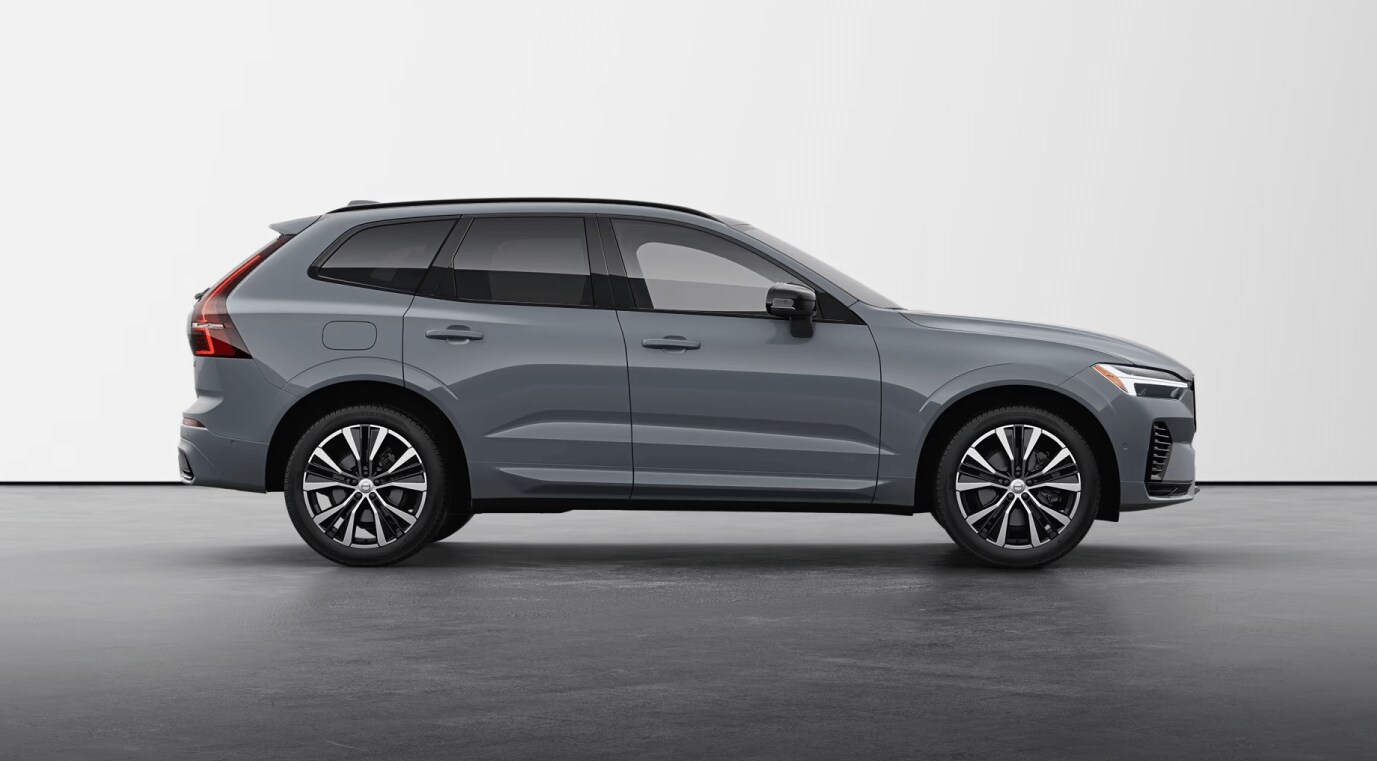 Discover Supreme Hybrid Performance
Like the other tiers, choosing the Ultimate trim of the new Volvo XC60 Recharge for sale rewards you with astounding sportiness. And like the others, enjoying that sportiness doesn't mean you have to compromise on efficiency. Specifically, the Volvo XC60 Recharge Ultimate offers the T8 eAWD powertrain as standard, bringing the same 455 horsepower, EPA-estimated 63 MPGe,1 and estimated pure-electric range of up to 35 miles.2
The Volvo XC60 Recharge Ultimate makes an impression as powerful as its performance with standard 20-inch wheels that feature a five-Y spoke design with a diamond-cut finish.
The Ultimate Lap of Luxury
As you'd expect from a trim called "Ultimate," the standard interior luxuries are beyond belief. For starters, this 2023 Volvo XC60 Recharge for sale will wow you with standard ventilated Nappa leather upholstery, a genuine handcrafted Orrefors® crystal gear shifter, and unique color choices like Amber or Blond. As you take your seat, you'll find the addition of front seat ventilation, power front-seat bolsters, four-way power lumbar support, driver's seat cushion extensions, front passenger seat memory, and more.
The technology is equally impressive. Included in the Ultimate trim Volvo XC60 Recharge is a Graphical Head-Up Display and a 14-speaker Harman Kardon® Hi-Fi sound system with an air-ventilated subwoofer.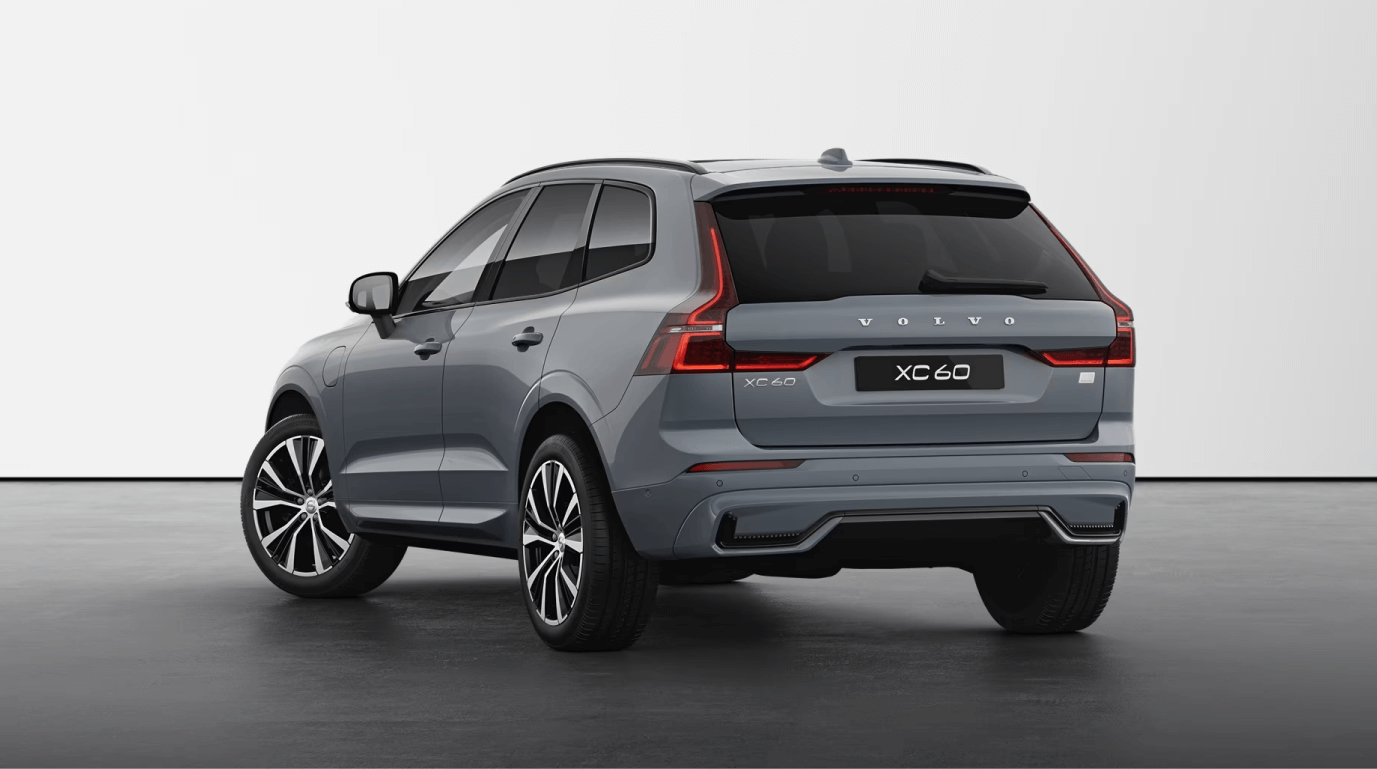 The List Goes On
When it comes to "even more," only a test drive can reveal all that this new Volvo XC60 Recharge for sale can offer. However, as a taste, you'll find that the list of features continues with an enhanced CleanZone system featuring a powerful air purifier, high-gloss exterior trim and roof rails, further 20-inch wheel options like the new-for-2023 aerodynamic six-spoke design, and unique upholstery options like a mix of Nappa leather, leatherette, and premium textile.
The accessories only add to how attractive the new Volvo XC60 Recharge can be. You can add four-corner air suspension for a cloud-like ride, a superb 15-speaker Bowers & Wilkins® sound system, and more.
2023 Volvo XC60 Recharge Polestar Engineered

Overview
Welcome to the pinnacle of what a Volvo XC60 Recharge for sale can offer — both in performance and features. In terms of features, the Polestar Engineered trim is quite comparable to the Volvo XC60 Recharge Ultimate. However, that's not the full story, as many of the materials and features are exclusive to this star trim level. This is the all-out option for stylish, luxurious performance, and you'll find impressive virtues all around.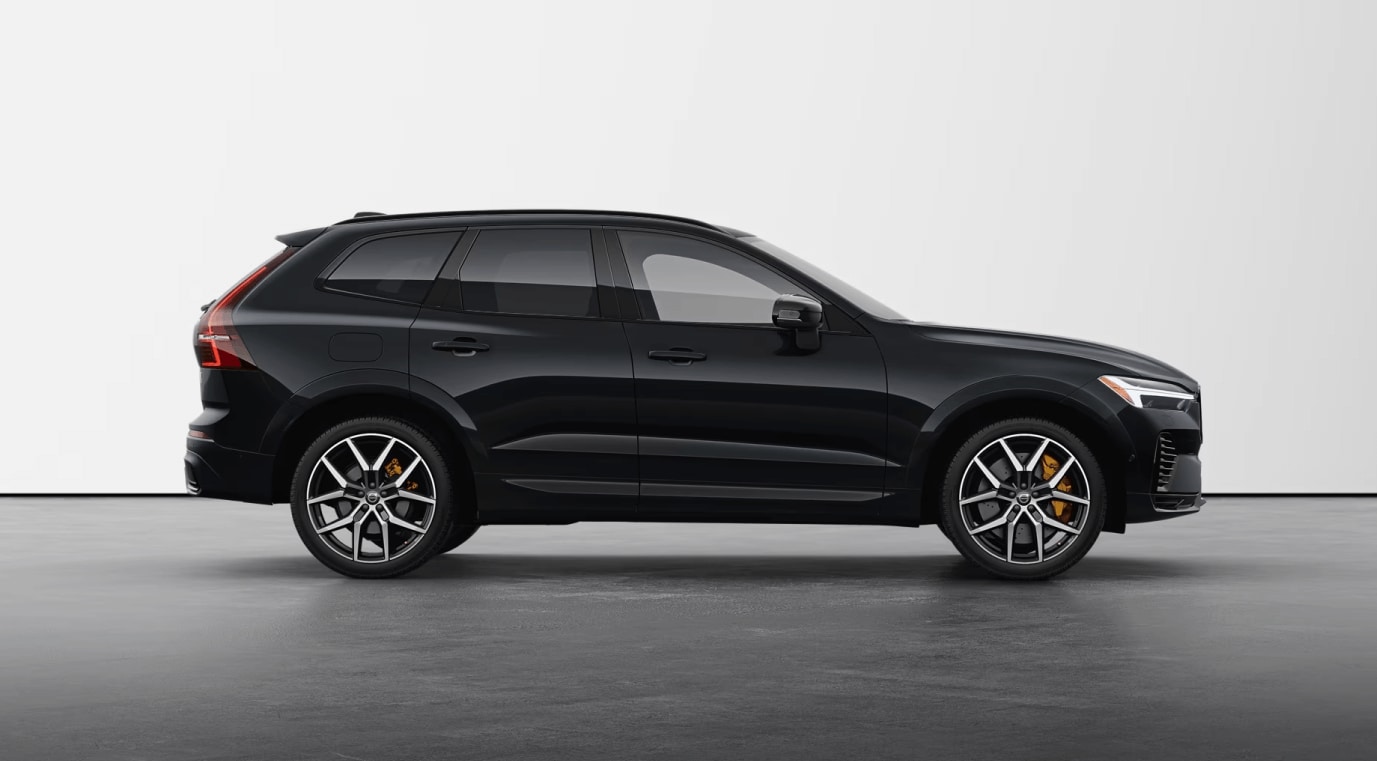 Take Pole Position With Polestar Engineered Performance
Getting top Volvo XC60 Recharge performance involves several cutting-edge racetrack-developed upgrades. The T8 eAWD powertrain kicks things off with the same output of 455 horsepower and a 0-60 mph time of 4.5 seconds. However, this trim cranks agility up to 11. The Dynamic chassis gets an overhaul, tuned for racetrack control and imbued with Öhlins Dual Flow Valve shock absorbers and Polestar Engineered springs that boost cornering grip without sacrificing comfort.
Unique 21-inch forged alloy wheels come standard, giving both a performance boost due to lower weight and style enhancement with their sporty designs. Akebono brakes give stopping power as vigorous as the acceleration, and further Polestar Engineered touches, like the grille, make this your choice for an SUV focused on both pampering luxury and thrilling performance.
Powerful Luxury & Cutting-Edge Tech
A Polestar Engineered Volvo XC60 Recharge doesn't just take performance to a new level, but luxury as well. Inside, you'll be greeted by unique aluminum tread plates, a tailored and heated sport steering wheel, bolstered Contour front seats designed for dynamic driving control, unique yellow seatbelts for a sporty look, fine Nappa leather and open grid textile upholstery for enhanced comfort, and more.
While your rear passengers enjoy the ride, they'll also enjoy the standard rear seat heating upgrade. The 15-speaker Bowers & Wilkins® sound system is optional on other trims but standard in the Polestar Engineered Volvo XC60 Recharge for sale. On top of all this, you'll find the Ultimate trim's safety, technology, and luxury features present in the Polestar Engineered trim.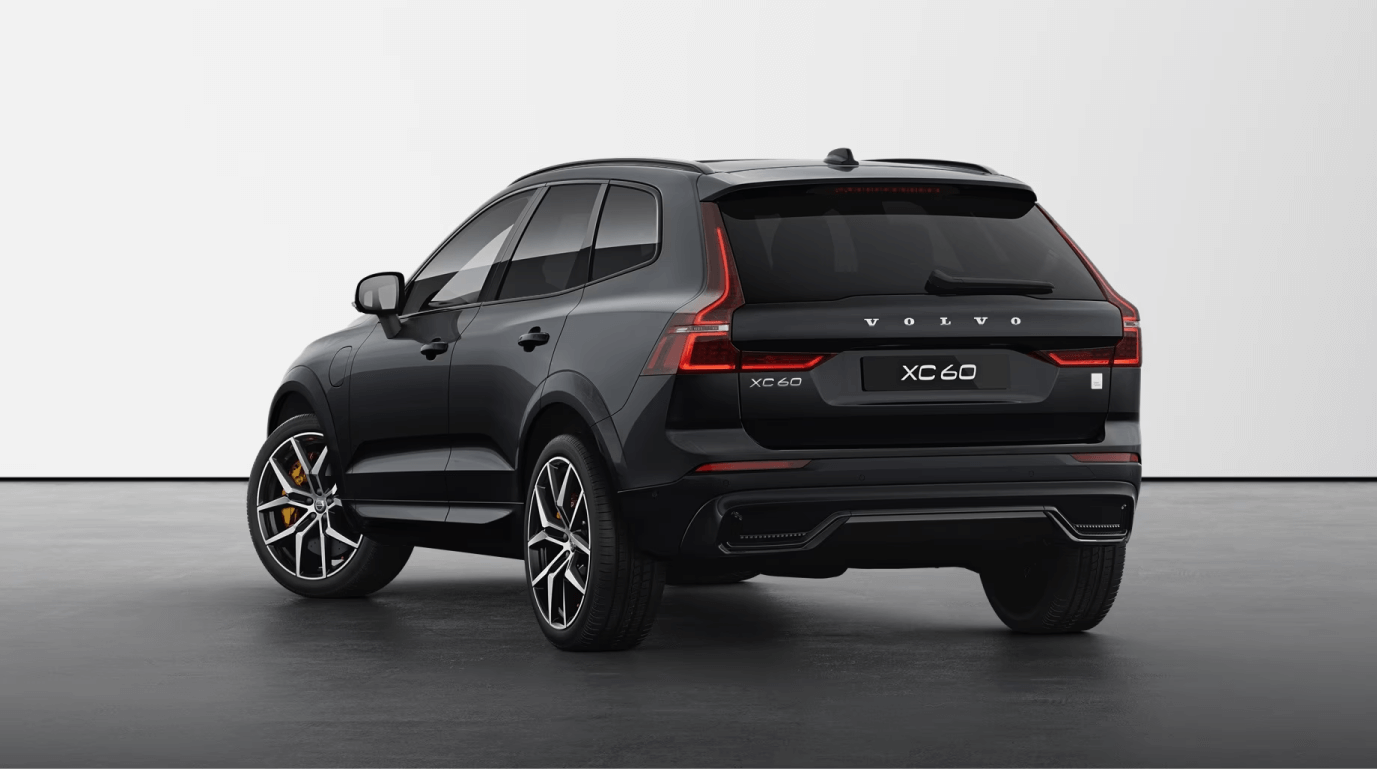 The Feature-Filled Star With Even Brighter Upgrades
Luxury and tech are rich, and so are the rest of the additional features. Like a Volvo XC40 Recharge Electric Ultimate, you get a high-pressure headlight cleaner to keep your visibility at its strongest. Distinct to the Volvo XC60 Recharge Polestar Engineered, Polestar badges let everyone know that this performance-oriented SUV means business.
Optional 22-inch wheels will make an even bigger impression, and accessories like the Protection Package Premier will keep it fresh for years. In contrast, a premium wool booster seat and integrated booster cushions give equally luxurious accommodations to your little ones. Outfit your Volvo XC60 Recharge Polestar Engineered with several choices for cargo carriers, and enjoy the ride.
---
Frequently Asked Questions
According to Volvo Cars, the estimated pure-electric driving range for a 2023 Volvo XC60 Recharge comes in at up to 35 miles.2 This is perfect for short trips around town, and with hybrid technology charging the battery as you drive, you'll be able to drive on electric power regularly. This vehicle offers you a great way to save at the pump.
The 2023 Volvo XC60 Recharge Hybrid comes with an EPA-estimated rating of 63 MPGe.1 As well as being fuel-efficient normally, you can drive on pure-electric power for up to an estimated 35 miles2 so that you can go to the store without utilizing any gas. Overall, its design makes this hybrid an efficient fuel saver for your commutes, road trips, or adventures.
Heading over to our dealership from or near Washington, D.C., is a straightforward journey that won't take long. In total, it should take you around 30 minutes to arrive. You can save even more time by applying for financing and valuing your trade on our website beforehand. Contact us ahead of time about the model you are interested in to make sure it is on our lot and waiting for you to test-drive when you get here.
Satisfy Your Volvo XC60 Recharge Needs at DARCARS Volvo Cars
The Volvo XC60 Recharge is a premium, competitive hybrid SUV that will provide years of luxurious and fun driving. The Volvo SUV magic is powerful, and so is the performance of this first-class eco-friendly machine. Contact us, then stop by DARCARS Volvo Cars in Rockville, MD, to get a taste of everything attractive inside one with a tour and test drive.
Leave A Review Of Your Volvo XC60 Recharge
"Booked a 2023 XC60 Recharge. Drove from NJ. All process was fast. Daniel Kwaw And Alex both really nice sales person. Nice and great experience. I highly recommend the dealership." 5 stars, review by Kingsuk Mukherjee, 8/28/22
Leave a Review
* Indicates a required field
Discover More
---
1This is a hybrid plug in vehicle. Since electricity is not measured in gallons, a conversion factor is used to translate the fuel economy into miles per gallon of gasoline equivalent (MPGe). Use for comparison purposes only. Your MPGe will vary for many reasons, including but not limited to, driving conditions, how and where you drive, how you maintain your vehicle battery-package/condition, and other factors. For more information, including information on MPGe, see www.fueleconomy.gov.
2Estimated range according to the EPA driving cycles. The actual range achieved under real conditions varies depending on driving behavior, driving conditions, how you maintain your vehicle, battery and other external factors. Visit fueleconomy.gov for further information.